Menu Phangan – Contemporary Dining & Western Cuisine at Wok Tum Hin Kong on the Island of Koh Phangan
Welcome back to Koh Phangan Island News, the one and only online news magazine offering fresh, latest and hottest news about the island of lunacy, called Koh Phangan Paradise.
Menu Phangan Opening Party – Contemporary Dining and Modern European Cuisine. We invite you to join us and celebrate the opening of Menu Phangan, a new exciting dining experience on Koh Phangan Island. There will be a selection of food and beverages from 7pm until late, free of charge! We do hope that you can take the time and spend it with us at Menu Phangan. We look forward to seeing you then …
Well … that was the invitation flyer Becki received a couple of weeks ago. Becki is normally not a big friend of any opening parties or other social activities as I prefer keeping a very low profile here on the island of madness. But Becki's Cheap Charlie alert system detected those words FREE OF CHARGE printed on that flyer and that's of course always a reason to change your social attitude, isn't it?
The main issue then is to immediately stop eating any solid food for at least 2 days before the opening event so we can then all massively fill up our poor and empty stomachs with that free selection of food and beverages offered by our friendly hosts Nick & Ann from Menu Phangan, the new exciting dining experience.
Becki was stunned how many starving island associates and cheap charlies showed up that night looking forward to fill their stomachs with that FREE selection of food and beverages. There must have been at least over a hundred island agents throughout the night at the Menu Phangan opening event. And to be honest, Becki also sort of likes these social activities as it gives you a brief insight of who is shaking hands with whom … who is doing business with whom … it provides you with a detailed status about current island politics.
However … where's the free buffet? That was the main question whispered throughout the night by most of those empty growling stomachs looking for a fast, massive & delightful relief. Sadly … there was no such thing as a free buffet! Instead you had these waitresses and waiters running around with those tiny plates of appetizers, snacks and whatsoever. Which were quite tasteful by the way, but of course not big enough to keep your growling stomach quiet for a while.
At that point you have to be very diplomatic and smart. So sitting at the end of the restaurant won't do the trick as most appetizer plates arrive there pretty empty. Though, you could still nibble off some tiny pieces of pork from the left over satay sticks if you like. Becki tried but it is really hard work … others look at you like you're a pig or another kind of bizarre animal … so not that satisfying after all.
Therefore Becki recommends a very strategic move by re-positioning your empty stomach into the bar area which is glad fully located next to the main kitchen access door. That's your point of interest … that's where the food comes out.
Well … it worked for a while … but Becki has to admit that there were indeed some more bright brainiacs that night and it didn't take very long until the bar & lounge area was filled up with a bunch of growling stomachs.
FOR STAFF ONLY! It said on the kitchen door. So my next point of interest was established. And under the disguise of being the island newspaper paparazzi who only wants to take some nice pictures of the chef Nick at work, Becki finally was granted main access to the exciting Menu Phangan dining experience. Great! And suddenly … there it was … smoked salmon … pizza … appetizers … snacks … pork satay … and many other delightful mouth watering some things. AWESOME 😉
The rest of the night Becki spend most of his time with his free friend Heineken and a couple of red wine glasses from far away Chile, which were very tasteful by the way. Then the usual chatting and small talk with the island's usual suspects and after all Becki has to say it was a great & funny night at the opening party of Menu Phangan. Please also go and have a look in the Menu Phangan picture gallery for further investigations – thank you!
Please check out the Picture Gallery => Menu Phangan Contemporary Dining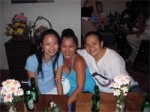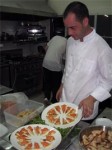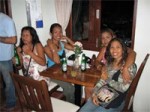 So … finally a BIG thank you to our friendly hosts Chef Nick & Ann from the Phangan Menu Dining experience. Wish you both all the best … great success and of course many satisfied guests enjoying first rated food in an outstanding tropical atmosphere.
For those of you who haven't realized yet … Menu Phangan offers Modern European cuisine using classical European techniques with an Asian influence. We at Me'n'u Phangan are committed to offering our guests a very special memory of their time with us by providing first rate food being served by efficient, professional and above all else, friendly staff in a relaxed atmosphere.
The restaurants emphasis will be to use only the freshest, finest and where possible local ingredients to create well balanced and considered menus, under the guidance of UK chef/owner Nick Hall.
Our fine dining establishment is located just 3km from the main port town of Thongsala at Baan Hin Kong on the west coast of Koh Phangan Island. Our unique building and landscaped grounds is set amidst a tranquil tropical setting, set back from the main road and its serenity is matched only by the neutral overtones of the restaurant where comfort is the key word in this dining paradise.
If you need more details about Menu Phangan then please feel free and visit the Menu Phangan Website. By the way, another great website produced by the wicked and outstanding Koh Phangan Web Designer Group called Beckspaced.com
Thank you & have a nice day!