Koh Phangan Island – Newly build road connects Thansadet and Thong Nai Pan Bay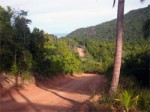 Went to Thansadet the other day again just to find out like usual that this place indeed has some sort of very special … magic … energy! I mean there must be a reason why the Majesties V, VII and IX of Thailand came to visit this special place, isn't it?
However, while being there enjoying this wonderful place and also visiting friends of mine I caught up the latest news about that area. There's a new road now connecting Thansadet and Thong Nai Pan bay! The road is freshly built, about 3 km long and still in sort of good conditions. But this will change once the raining season starts and then it will be sort of a dangerous experience – he he he 🙂
Went on a test ride for about a kilometer to check out the new possibilities and have to admit it's worth a try as long as you're used to Koh Phangan road conditions. If you're not then don't try to be brave in any way. You might only end up at the local hospital 🙂
The road is sort of a country lane with lots of sand, stones and gravel on it. It finds its way through the jungle with sometimes (very) steep hills and needs some advanced Koh Phangan driving skills. So be well prepared if you want to give it a try!
All the best & have fun like usual 🙂