Janos Yuhey Restaurant Koh Phangan Island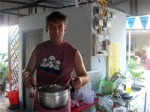 Yo .. got a really HOT tip for anybody who is hungry and looking for some good and reasonable "farang" food here on Koh Phangan. The "Yuhey Restaurant" is open since a couple of weeks and I went to check it out a couple of days ago.
Janos who I know for quite a while now is originally from Hungary and recently decided to be a Hungarian chef cook and opened the restaurant together with his Thai girl friend. Serving mainly "farang" food like Hungarian Gulasch, Home Made Sausage, Spaetzle, Pizza, Schnitzel, Taco, Meat Loaf, Spaghetti, Chili Con Carne, Crepe, Salads and Sandwich and so on.
Not one of the dishes costs more than 70 Thai Baht and this is really sort of unbelievable for this island here in our days! Therefore this place is the HOT tip for this month 😉
I went there already a couple of times and tried the Hungarian Gulasch. A big, huge bowl filled up with fresh home made spaetzle and lots of Gulasch on top of it – delicious! The other day went for Zigeuner Schnitzels with fried potatoes – also recommend this stuff. It comes with a huge amount of fresh garlic so be well prepared!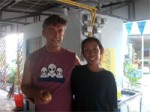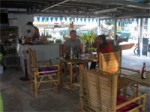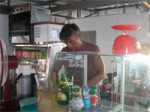 The other day Janos served me that special Koh Phangan cake. Sort of a chocolate cake soaked with rum or any kind of liquor I couldn't make out and a home made coconut cream on top – indescribable! So please don't hesitate and ask him about that special Koh Phangan Cake 😉
The "Yuhey Restaurant" is located in Thongsala just next to the petrol station. For more details just check out the map. It's open from 10.00 a.m. until 08.00 p.m. and closed on Sundays. But whenever Janos decides to have a "Singha Boost" or any other more important activities the restaurant might be closed until further notice 🙂
For any emergency calls please use this number and ask for Janos 01-5389816
All the best and enjoy life to its max …..