Plans to open up International School on Koh Phangan Island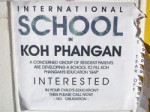 As everything is always in a permanent flow and constantly changing it's just up to you to open your eyes and discover new things around you every single day 🙂
So I just discovered this new flyer a couple of days ago which is put up at many different places around Koh Phangan. And I thought it's quite interesting that a group of concerned resident "farang" parents are trying to setup an international school here on this lovely island to fill Koh Phangan's educational gap!
I think that this is really a great idea as the education you normally get here on Koh Phangan's National Schools is far below zero compared to any western school. I mean some of the kids here still think that Europe is some sort of fruit you plant in the ground and probably can eat some years later. And I'm not joking this is something a 12 year old school kid told me a couple of years ago 😉
And also the Thai Government doesn't seem to be very interested to fill the nation wide educational gap. Instead the Thai Prime Minister Thaksin recently had the idea to buy 30% shares of the Liverpool football club probably to guide his National team to win the next world champion ship! But so far the Thai Government has dropped that deal.
Who knows? Amazing Thailand 🙂