Hear Ye Hear Ye – Buakao Inn A's Advertising Koh Phangan Island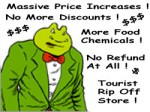 The new menu at A's coffee shop will have space for advertising (in addition to massive price increases.) Advertisers are entitled to extremely small discounts on food and drinks maybe once per year.
Quarter page advertisements are 1500 baht per year. This is in color with your own artwork on laminated paper. We will make one page(two sides) at the back of the menu and one single side page for the back inside cover.
Samples:
Super Tourist Ripoff Shop
Interior Goods Sold At Gigantic Profit
Welcome To Our All Inclusive Service "No Refund"
Sudden Death Bike Rental Service
Travel Anger Minibus Roll N Crash Tour
Dysentery Seafood Grillhouse
Bedbug Near Beach Bungalow "Watch Each Other From Your Own Balcony"
We plan to print in the first two weeks of July. If interested please send artwork as soon as possible. Prepayment is required! For more details please inquire buakao@samart.co.th – thanks!