Female German Tourist found dead after Full Moon Party on Koh Phangan Island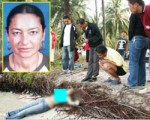 One day after the world infamous Full Moon Party at Hadrin Beach on Koh Phangan Paradise Island a female German Tourist was found dead on a beach close to Thongsala village.
The female German tourist, Astrid Al-Assad Schachmer, 45 years old was discovered Sunday morning floating dead in shallow water off a beach near Thongsala village stripped from her waist up and showing clear signs of bruises on her neck.
"She was found shirtless but wearing jeans, and there was about 600 baht (17 dollars) in her pockets," said Phangan Superintendant Police Colonel Jarun Uchupap in a telephone interview with Deutsche Presse-Agentur, dpa.
"There was no water found in her lungs so we suspect she was killed before being thrown in the water," said Jarun.
'Further investigations by local tourist police revealed that the female German tourist might have been raped and later killed' Maj Pissanu BiaKaew, a Tourist Police inspector, officially declared.
Police have sent Schachmer's body to Bangkok for an autopsy to discover the cause of death and determine whether she was raped.
According to Schachmer's passport, the German national had spent four months in Thailand last year. Jarun said she was believed to be a frequent visitor to Phangan Island, which is notorious for its all- night, drug-crazed full-moon parties that draw thousands of foreign tourists.
Local Koh Pha-Ngan Police officials believe she came to the 'Island Of Madness' to celebrate the world infamous Full Moon Party at Haad Rin beach on Saturday night, which attracted about 10.000 foreign and local party revelers.
Police agents from the 'Island of Madness', formerly also know as Koh Pha-Ngan Paradise Island, are now on the hunt for the unknown person believed responsible for the terrible murder of the German woman at the Full Moon Party Rave on Koh Phangan Island this weekend.
Colonel Charoon U-chuparp, superintendent of infamous Koh Pha-Ngan Police Station, announced local and tourist police agents were now trying to find the murderer. "We will bring the culprit to justice," he further stated.
Police Colonel Charoon also expressed serious concerns that this additional murder case would probably hurt the already damaged image of Party Island Koh Phangan and further negatively affect Phangan's fragile tourism industry.