Koh Phangan Island gets EcoZone protection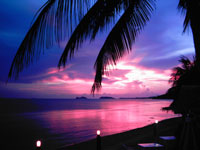 New 'green' rules to regulate commercial development on Koh Phangan Island!
The Office of Natural Resources and Environmental Policy and Planning (Onep) has declared Koh Samui, Koh Tao and Koh Phangan districts in Surat Thani province part of an environmentally-protected zone after nine years of efforts to regulate commercial development on the islands.
The Onep declaration, which came into force on May 30, means all commercial activities on Koh Samui, Koh Tao, Koh Phangan and 39 other islands in those districts will be restricted to preserve the environment, said Onep deputy secretary-general Noppadol Thiyajai.
He said the tourism industry has encroached on the islands' watersheds, mangrove forests, cliffs and shores. The islands' city planning and building control laws provide insufficient legal measures to protect the environment and natural resources, he warned.
"We hope the declaration will at least help maintain the environment on the islands. We understand the measure may not result in significant environmental improvements, but it is better than having nothing," Mr Noppadol said.
Onep's deputy chief said new rules under the declaration will not have retroactive effects on past development but new construction projects will require the approval of a panel headed by the provincial governor.
Under the declaration, development of petroleum drilling and mining operations, land reclamation, commercial airports and golf courses are banned.
Other new establishments such as hotels and residential projects will be required to allocate 50% of their total land use to green areas. These projects will also need to install grease traps in their waste water systems.
New state-owned buildings must also follow traditional southern designs, with their colours limited to green, grey and brown.
Somsak Bundao, director of the Urban Environment and Area Planning Office, said the protected area does not cover petroleum concession sites operated by Chevron, which local environmentalists and business operators have opposed amid concerns that oil drilling activities may affect Koh Samui's tourism industry.
He said three committees will be set up to monitor the environment in Koh Samui, Koh Phangan and Koh Tao. The panels, to be chaired by local district heads and made up of representatives of local authorities, environmentalists and business operators, will have the power to supervise beach land management, mangrove rehabilitation and sea use.
"Officials will explain to locals what they will need to do under this environmentally-protected zone. We want to see aggressive law enforcement to protect the environment, otherwise nothing will change after the declaration." he said.
Onep began studying the possibility of declaring the islands in the three districts part of protected zone in 2006 but the process was delayed because it affected business development.
Ramnetra Jaikwang, mayor of Koh Samui Municipality, said he believed strict enforcement of rules to protect the environment under Onep declaration's will benefit the island in the long run.
Thank you to Bangkok Post "Islands get ecozone protection" which was brought to us by Google Alerts.