High density of police check-points on Koh Phangan Paradise Island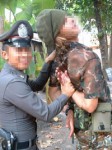 During the last couple of days island officials reported a high density of secure police check points along the west coast of Koh Phangan Island close to the villages of Thongsala, Wok Tum, Hin Kong and Srithanu.
Due to the increased number of tourists traveling to Koh Pha-Ngan Island during high season around Christmas and New Year period local police security agents reinforced the security level on Koh Phangan by an intensive setup of numerous check points along the west coast.
A large number of tourists have been searched by local police forces for the illegal possession of prohibited mind altering substances like marihuana, Ecstasy, LSD or crystal meth, also locally known as Yaa Bah.
Island police officials further revealed, "Since the War against Drugs a couple of years ago the main suppliers of illegal drugs have been mostly eliminated throughout the nation! But still we do observe a large amount of tourists in a questionable mental state while being here on this beautiful island. Therefore we think that tourists might just bring their personal supply of illegal drugs with them to this island. This disrespectful behavior needs to be stopped! Just say No Drugs – Enjoy Koh Phangan Island Naturally!".
So far an official list of freshly caught illegal drug possessors has not been published by the local police forces.
In the past a couple of serious claims were made by numerous tourists that local police officers were working closely together with local drug suppliers and lawyers in case of illegal possession of drugs.
An unnamed tourist finally disclosed, "On my arrival at the resort I got offered a small pack of marijuana by the resort owner which I gratefully purchased. Then a few hours later the local police showed up and searched my bungalow for illegal drugs. Unfortunately the police found the marihuana pack and I got arrested. Once I arrived at the police station a friendly, smiling lawyer was already waiting for me. The lawyer then arranged all necessities for me and after paying 80.000 Baht in cash they finally let me go. This whole thing was an organized setup!"
Local police officers have strongly denied the existence of any of these claims.
"Such claims are outrageous! Local police officers are only here to serve and protect the tourists on Koh Phangan!" a local police officer further stated.