3rd wave of Covid has finally reached Koh Phangan island

Thailand's 3rd wave of Covid-19 is leaving no stones unturned, as it has recently spread to the Gulf Islands of Koh Samui, Koh Phangan, and Koh Tao.
The Ministry of Public Health is reporting 83 new COVID infections for Koh Samui island as of yesterday, April 16.
The other popular Gulf Islands of Koh Phangan and Koh Tao are reporting 2 and 3 new coronavirus infections respectively. All of the new infections on those 2 islands have been admitted to Koh Pha-Ngan Hospital.
The CCSA has placed Surat Thani province in the Orange Zone category, along with the rest of the provinces that are not listed in the Red Zone. Those provinces in the Orange Zones must adhere to nationwide restrictions along with closing restaurants by 11pm.
Nationwide restrictions
No curfew but reduced travel and movements, particularly at night time from 23.00 hr to 04.00 hr
No alcohol may be sold or consumed in restaurants
The closure of all entertainment places, such as pubs and bars
Any gathering of more than 50 people is prohibited
All educational institutions will be closed for in-class learning, as well as amusement parks and indoor playgrounds
All shopping malls must close at 21.00 hr
Meanwhile, it looks like any reopening plans are being delayed due to the 3rd wave that has hit nationwide. Authorities say the 3rd wave's epicentre is that of Bangkok's nightlife venues, which have seen visitors to those areas spread the virus throughout the Kingdom.
Now, the health service is setting up emergency covid beds, a total of 90 in Surat Thani, 40 Koh Samui and 50 Koh Phangan.
Update 18. April 2021
Samui Info by Nicha reports 8 cases in total for Koh Phangan & Koh Tao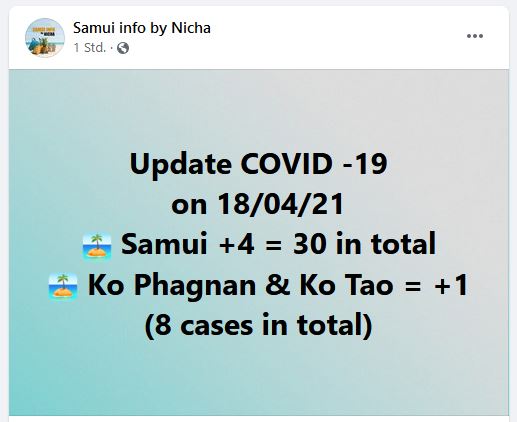 Koh Phangan COVID-19 Situation 17. April 2021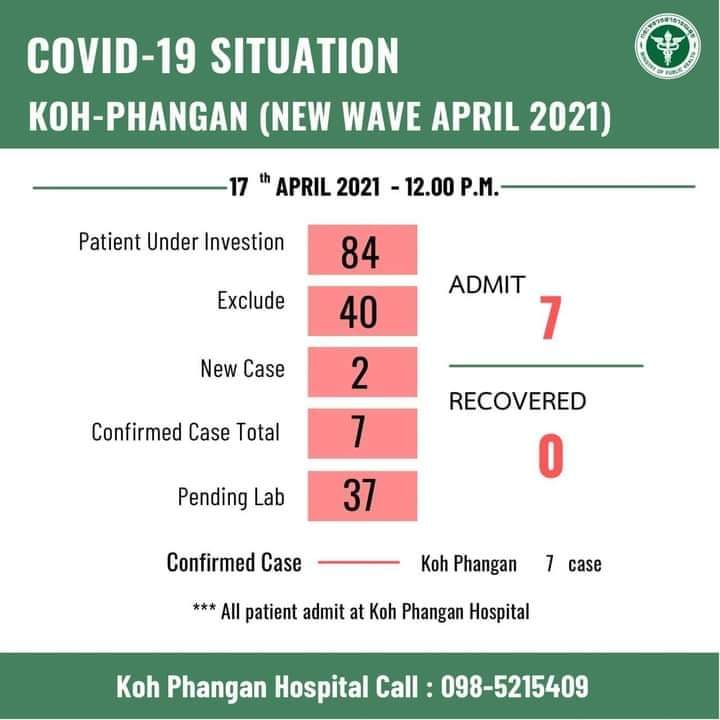 Thank you to PR Surat Facebook which was brought to us by Google Alerts.