Bag Snatching from motorbike baskets on Koh Phangan Island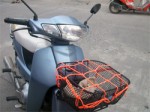 Bags carried in the front basket of motorcycles are being snatched at the rate of 2 to 3 a week at the moment. The favorite place's where this seems to be happening is on the west coast road north of Thongsala just past the Amsterdam bar and just before O.K. bungalows.
Also the road outside the Hospital seems to be getting a bit of action in the past week with one unlucky guy having his passport and tickets for the night boat snatched as he rode to get on the boat. These are both fairly dark stretches of road with little or no street lighting. The smart move would be to remove all the baskets from the rental bikes or warn the tourists when they rent a bike, but there goes a great little earner for the bike renters who make a killing out of replacement baskets when people fall off.
The usual method of the snatch is to come up behind you with the light on high beam and as the bike draws level with you the passenger makes a grab for the contents of the basket. In trying to catch one of these thieves two people were hurt when there bike crashed while in hot pursuit of the bag snatchers.
I also heard of one guy having a foot kicked out at him. The police seem to be doing nothing as usual, just sitting about on street corners smoking cigarettes and chatting to their friends. I guess they would be a little more interested if they were offered a little incentive to track down the culprits. So watch out when driving at night and don't ever carry anything of value in the basket. YOU HAVE BEEN WARNED!