Local tattoo artist from Koh Phangan Island arrested for murder of female German tourist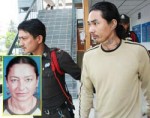 Thai police have arrested a local Thai man from Koh Phangan Island in connection with the murder of a female German tourist at the weekend during the aftermath of the world infamous Full Moon Party on the southern island of Koh Pha-Ngan.
Police officials said that the local Thai suspect, Tiwat Kasemchoke, had confessed to killing Astrid Al-Assaad Schachner, from Munich, on Saturday night because she had allegedly been stalking him.
"She had humiliated me. She often told other foreigners that I fell for her and tried to rape her several times, which is not true," Tiwat claimed, "It's she who wanted to be in a relationship".
Police summoned Tiwat for questioning since Sunday's night because the German tourist was last seen alive in his company.
"I'd planned to kill her. So, I invited her to a party at a shop where I've been working," Tiwat said, "Then, I suggested that we walked to a beach together. That's where I punched and strangled her".
Tiwat Kasemchoke, 29, is now in police detention.
The body of the 46-year-old woman was discovered on Sunday morning on Pha Ngan Island after she headed to a beach late on Saturday for the party, local police Lieutenant Colonel Somsak Nhurod said.
The woman's body, dressed in just a pair of shorts, was found on a beach near Ban Thongsala about 11am yesterday. Forensic officers said the victim was probably killed about eight hours before her body was found.
'There were some bruises on her left cheek and right hands, but those marks are not likely the cause of death. There was also no sign of rape,' Lt Col Somsak said.
'We suspect she might have been murdered somewhere else because her top half was naked but there were no signs of fighting at the spot her body was found or of her clothes,' he added.
Police named the victim as Astrid Al-Assaad Schachner but the German embassy in Bangkok was unable to confirm the identity of the woman or release any details of the case.
The German woman had come to Pha Ngan last month to take a course in tattoo art, Col Somsak said, adding that she was last seen at a party on Saturday night.
Somsak said the suspect – Tiwat Kasempoch – worked at a tattoo parlor where the victim was also seen on Saturday night.
Ms Al-Assaad-Schachner, 46, was a regular visitor to Thailand last year, sometimes staying for several weeks to join in the monthly parties to celebrate the arrival of the full moon.
Pha Ngan's heady parties are famous among backpackers and tourists. Each month the 24-hour beach parties, known for their wild mixture of drink and drugs, attract as many as 10,000 people and are nearly always followed by reports of criminal activity, ranging from theft and drug abuse to rape and murder.
Despite its reputation as a holiday paradise, Koh Phangan Paradise Island has seen a series of tourist murders in recent years, including the killing of an Indian tourist in March 2008, the murder of the Israeli tourist in April 2007 and also the still missing British tourist Danny Hall, 36, who disappeared during April 2008 while staying on Koh Phangan Island.
Koh Phangan police chief Jaroon Uchupap said he was concerned this additional murder could seriously damage the reputation of Koh Phangan, a popular tourist spot, especially famous for the infamous Full Moon Parties at Hadrin Beach.