Koh Phangan Party Zone Gun Shooting Madness – Let's get the party started!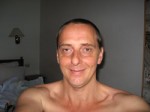 Welcome back to Koh Phangan Island News – the one and only independent website exposing the awful truth about the island of madness.
Well … it has been a rough few days but Becki is alive and recovering well.
My very best wishes and deepest thank you goes to all my beloved Phangan friends who really helped me a lot during the last few days. My dear friend Ara – really thanks a lot for your outstanding and stunning support! Nothing would have been possible without your help! You are and always will be my island guru – you really deserve that – you're a star 😉 Thank you so much!
First of all massive thankfulness to my beloved local Thai people from Koh Phangan, particularly Baan Nuea village, especially my Thai grandmother Paa Nu Yot Selim. Another thank you to the best, toughest and most intelligent young local Thai woman I've met so far on Phangan Island – Erng 13 🙂 Furthermore another khapkhun maak maak to Manah & Puh who came to rescue me at my place shortly after the shooting and provided me a safe shelter at their house.
My deepest gratitude also to the following real Phangan souls: Patrik & Na Hee Rachanee 🙂 from the Baancom headquarters who provided me a free laptop for the time being and helped sorting things out at my house on Koh Phangan while being away. Simon & Lee from the Koh Phangan Hotel, Resort & Bungalows Empire. Dave from the Harmony Beach Resort. Heike & Daniel from the best and most professional Koh Phangan Diving School called Haad Yao Divers.
Daniele who simply just makes the best and most beautiful Shiva Eye Jewelry on Koh Phangan. Mike from the Buakao Inn also better known as the republican coffee house. Johann and Fred, my Phangan friends from Canada, who constantly filled up my mobile phone credit so Becki could do all the necessary phone calls. Not to forget Glyn, my other Canadian friend, for his call-ins, posted comments and mental support.
Furthermore my confused and paranoid friend James from Switzerland, Joe the guitar hero, Billy the Kid, Jordi my Spanish friend from Koh Samui, Karen and Andrew, Artur providing the No Pain No Gain message, Adam, Nishki the German quality builder, Joern from Vistek Germany, Rudi & Stephan from the Frankonian headquarters, the unknown freelance journalist making the right connections at the right time.
Thank you to all my beloved Koh Phangan Island News readers and your outstanding support on my website and sending all these lovely messages, thoughts and wishes over the ether. You can be assured that Becki received your blissful thoughts – Thanks for doing that! And please remember – your opinion does indeed matter! So please keep posting and help to spread the news!
And last but not least my beloved friend Tom from the Funsharing headquarters in Strinz Trinitatis and all my friends from the little Bachgasse for their mental support and transferring massive amounts of subtle but necessary energy through the ether around the globe.
Finally a cosmic thank you to all my guardian angels who must have been gathering right next to my bed during the night and managed to wake me up at the right time. Also a big thank you to the creative force, the source, the light, the void. Thank you for sending out messages all the time helping to guide me through the chaos towards the light and taking the right steps at the right time. Thank you for making all this actually possible and helping me to understand things and make it clearer as I walk along on the path chosen by my heart. I love you so much – thank you!
So … all my beloved friends, and please don't get mad at me if Becki forgot to mention you here as I'm still in recovery mode and system resources are only around 60% at the moment.
But please notice that nothing would have been possible without your help and hereby Becki want to let you know that I love you all from the deepest bottom of my heart. You are the best and most lovely human souls on this planet and it really is such a pleasure for me to actually have the chance to know you and share a friendship with you guys. Thank you! Thank you! Thank you!
May God bless your souls – you more than deserve this!
The funny thing is that once the shit does indeed hit the fan everything becomes relative and really bizarre. There's no more need for money, there's no more need for material things, there's no more need for anything except really good friends.
So my message to all of you out there is quite easy. Money does not matter! The only thing that really matters is true friendship! All you need is LOVE!
Well … there have been quite a few reports about the attack out there on the internet and also some newspaper articles but they actually didn't get things quite right and messed up a few details. Therefore communication with words still seems to be an issue among people so a new form of communication should be achieved sooner or later at one point.
But Becki is glad to still be alive and able to enjoy the endgame on this chaotic planet and now I can share the events how they really happened. And yes, indeed, Becki does not play baseball nor does Becki have a baseball bat at his home 😉
So … Monday the 30th March 2009 around 4.30 in the morning Becki woke up while sleeping in his bed. Must have heard some whispering and had a strange feeling in my guts as something didn't feel quite right. Then I immediately turned on the lights in the sleeping room and finally I could see two guys standing on my veranda.
The two guys were definitely Thais, both male and around 20 years of age. Really pretty young and totally inexperienced from what I could first sense. Both guys were not very tall about 160 cm in height but one guy a bit taller than the other.
The smaller one was the leader wearing jeans, a blue t-shirt and covering his face with a red mask so you could only see the eyes. Also the light was turned off on my veranda I really couldn't see much. The second guy mostly tried to hide behind the other one wearing also dark trousers but a white t-shirt and a black face mask. He was a bit taller in size but even more scared then the other one. Both really inexperienced!
Once I spotted them on my veranda they both immediately went into attack mode. The leader of the gang was equipped with a red aluminum baseball bat and the other guy just had a very rotten piece of coconut wood in his hands.
As soon as they both started attacking me, trying to hit me with the bats, Becki must have gotten into a sort of OBE, out of body experience, as I started observing myself doing some really nasty animal instinct sounds shouting at them in a really, really bizarre animal like voice. Both Thai attackers must have been so shocked and surprised about what animal Becki was doing as they didn't hit me in any way but mostly messed up my beloved computer case which sort of pulverized the rotten coconut wood bat from one of the attackers.
Both of them, not being able to hit me at least once, then were sort of really scared of me, possibly because of my awesome animal instinct style shouting, so that the other attacker who just pulverized his rotten coconut wooden bat starting throwing the fan next to my bed at me. Becki then quickly moved a bit back and to the side so the fan thrown at me couldn't do any damage.
Then I remembered the massive and strong piece of teak wood bat which Becki positioned next to the bed a few weeks ago in case some unwanted visitors will show up during the night.
And yes, Becki should have better gotten a gun according to some comments posted here but to this very moment I still refuse to have a gun as we don't need those things anymore on our lovely planet. All you need is a strong and clear connection to the spirits and everything will be fine!
Then Becki quickly took the wooden bat next to his bed and suddenly jumped towards the attackers to defend myself. Both attackers then were more than surprised and jumped out the sleeping room onto the veranda. I then went quickly after both of them and the attacker without the coconut bat, the weaker one wearing the white t-shirt, was sort of hiding behind the brave but scared leader with the red mask.
Then I again jumped at them forcing them both to take another step backwards and the leader of the gang, the guy with the red mask, must have been so confused by my sudden actions that he totally forgot about his aluminum baseball bat. He pointed the baseball bat towards me without any action so I finally just grabbed his aluminum baseball bat, made a hart and strong pull and without any resistance the baseball bat was in my possession. Then I threw the bat just behind me in the room on my bed and then was standing in front of the two disarmed attackers with my teak wood bat in my right hand high up in the air, ready to hit them if they try to attack me.
My message was both clear and simply. Come any further and I will fucking smash your brains on my veranda! Still only defending not really attacking in any way!
Both attackers then were shocked to the bones and really looked quite confused and so the leader of the gang finally grabbed in his trouser and took out the gun.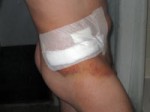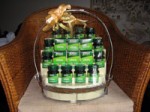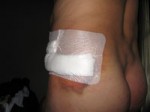 As soon as I saw this coming Becki had to go into hiding mode and quickly went back into the room where I would feel a bit safer behind a wooden wall. Then it was really quiet for a second and after that the first shot was fired – BANG!
I felt a strange feeling at the left side of my pelvis just next to the hip. And then another BANG … BANG! Three shots were fired in total but Becki only got hit once. Not three times like it was reported in the press!
And finally I could hear both attackers running away. Waited another few seconds and then went on the veranda and saw them driving down the road on a usual motorbike like Honda 125cc. No idea about color or brand as it was dark and the road quite a bit away.
I then turned on the lights on the veranda, had a quick look at my left hip and could see a nice tiny hole in the front and a bigger tiny hole coming out at my buttock. I immediately knew that no big damage had been down just a nice shot passing through my flesh.
Didn't really feel a thing at all mostly being in shocking mode but lots and lots of blood came out of the bullet exit hole at my buttock. Fuck!
Then I took a towel to cover the wound and asked myself … shit! What to do next?
Well being a nicotine addict for so many years my first idea was to sit down roll a cigarette and calm down, relax and make up a plan. Fucking unbelievable, isn't it?
Anyway, the first smoke entering my desperate lungs I heard another sound from the back of my house. Like foot steps or something like that. Well … is it ever going to stop, I asked myself. Why can't I smoke a cigarette in peace?
So still in shocking mode and scared of another attack Becki went back into his room, grabbed his teak wood stick ready to defend my life again.
Luckily I then heard a familiar voice asking, Beckmann, Beckmann … are you okay? And soon I recognized the voice of my Thai neighbor Manah and his wife Puh coming over to my place looking what is going on. As soon as Manah & Puh arrived also the attackers came driving back on their motorbike probably looking for their baseball bat.
However, I quickly took the baseball bat as a piece of evidence, grabbed my tobacco (poor addicts!), mobile phone, wallet and keys and left with my neighbors to their house looking for a safe shelter.
A few of my neighbors, including my Thai grandmother Nujot, were already there as they already had heard the noise and gun fire at my place.
Shortly after we arrived at my neighbor's house the attackers left again (I have no idea what they were doing!) and my neighbor Manah finally called the corrupt local police cops which showed up about 10 minutes later.
So that's the story … the real story with all the details and no false information at all!
Well, hope you enjoyed the show and please come back soon as I plan to provide more updates on this story in the close future – promise 😉
Also a final word to all the party organizers and DJs supporting the parties in and around Baan Tai village: FUCK YOU!
Hang tight you assholes and watch the international show starting soon … let's get the party started!
To all my friends again a BIG, BIG THANK YOU! I LOVE YOU ALL!!!
More to come soon …