Koh Phangan Party Island – Techno Party Zone Madness Report Part 2
Sawadee Khrap & welcome back to Koh Phangan Island News – the one and only uncensored gutter press network keeping you informed about the daily increasing insanity on the island of madness, formerly also know as Koh Phangan Paradise Island.
Two nights ago, 25th March 2009, we had another night of peace, love & dance orchestrated by the Black Moon Culture team and the sound level was again really impressive. You could hear the bum bum bum sound throughout the night and as far as Baan Nuea village which is at least 2-3 km away.
But according to my reliable party zone sources the shit is indeed going to hit the fan by next month as the Black Moon Culture team has decided to move the techno party away from their Mac's Bay Resort and relocate it directly into Baan Tai village to the family related Baan Sabai Party Zone. Please correct me if I'm wrong!
But isn't that fascinating news? Finally the Mac's Bay Black Moon Culture team had enough of their own techno party noise, as they want to improve their expensive hotel style resort, and had nothing better to do than moving the Black Moon Culture Techno Party directly into the village of Baan Tai – Respect!
So my best wishes and warmest greetings go the village people of Baan Tai and the famous Baancom headquarters with Patrik & Rachanee who just happen to live 30 meters away from the new & improved Black Moon Culture Party Zone. Enjoy a night of peace, love & dance 😉
But back now to the chronological order of the thrilling events which developed over the last couple of weeks.
17th February 2009 there was an internal meeting at the district office and most of the village chiefs (phu yais) of Baan Tai and also Hadrin beach, plus all the other party organizers were invited to find a solution to this techno party terror problem in Baan Tai village on the resort island of Koh Phangan.
Smartly enough the Jungle Experience Party organizers didn't show up at all and once the other party organizers were asked about suggestions to improve this situation in some way none of them had any enhancements to offer … zero … nada … nothing!
At this internal meeting it became quite obvious that more and more people, even from party beach Haad Rin, started complaining about the loud and terrible noise caused by all night long parties around the island.
Different opinions were shared at that internal district office meeting and some people suggested shutting down all parties. Others suggested shutting down the parties by 2 am. Some suggested moving the parties out of the villages and others even suggested organizing parties everywhere and all the times as Koh Phangan is indeed our beloved party island 😉
But the last word in those meetings always goes to the chief of district (Nai Amphoe), who is of course in a conflict of interest as no party will ever be allowed without the financial sponsorship of local authorities from Koh Phangan Island.
So the final outcome of that internal district office meeting, with massive support from the party friendly Nai Amphoe, was each party organizer once a month until 6 am.
Starting 19th February 2009 the first parties have been shut down at 2 am, e.g. Jungle Experience, Baan Sabai, etc …
But the main question always remains. How long will these new regulations be enforced? Normally it just lasts a few days and then everything will be back again … business as usual 😉
Beginning of March 2009 we had another night to satisfy your soul with the Half Moon Festival which apparently closed around 8 am. Then just a few days later the evil Shiva Moon Family Party night which had been shut down precisely 6 am. And then, 3 days before world infamous Full Moon Party, another night with a demented Jungle Experience Party which closed at around 9 am.
So the question remains! Why do they actually organize meetings if none of their new regulations are ever going to be enforced?
Luckily someone on the island then received some phone calls and a few letters from some anti corruption organizations from capital city Bangkok asking about the current party situation and improvements on the island of madness.
Information about anonymous phone calls, threats, gun fire, internal meetings, new party regulations and the lack of enforcing those new agreements were quickly exchanged and then just a few days later the (corrupt?) local authorities around the Nai Amphoe must have got their asses kicked again as they were finally calling for a public meeting at Wat Pho temple in Baan Tai village.
On March 19th 2009 a public meeting was then held at the Buddhist temple Wat Pho in Baan Tai village to find a solution to the Techno Party Terror problem. Around 150 local village people attended the meeting looking for a relief.
First person speaking on stage was the party friendly chief of district, locally better known as the Nai Amphoe. He mostly was only mourning aloud about his terrible headache most of the time and furthermore complaining about all those nasty phone calls from some higher authority from the main land Suratthani or capital city Bangkok.
Instead of taking responsibility, as a chief of district is supposed to do anyway, and shutting down all the parties by 2 am according to national Thai law, he strongly advised the people from Baan Tai village to not call any higher authorities from the mainland anymore.
Apparently the Nai Amphoe also didn't offer any suggestions on how to improve the current situation. He just left all the work to the local people so they could arrange a solution between themselves. Isn't that just amazing? Unforgettable Thailand?
Then he invited all the people to speak on stage to finally find an arrangement which satisfies all people involved.
Next on the stage was a local Thai guy called Gong from Hansa Resort in Baan Tai village who happens to be a close associate with the Half Moon Festival Empire. His speech was quick and dirty and he simply suggested to have parties everywhere and all the time. Koh Phangan is a party island and parties bring lots and lots of money and therefore we should all make parties all day & night long! Awesome 😉
Next in the line was a former village chief from Baan Nok village and he brought the whole story to a point. He announced that the international reputation of Party Island Koh Phangan went seriously bad over the last couple of years. Koh Phangan is only known for its all night long drug fueled techno parties. Tourists only come to the Full Moon Party once a month and shortly after all the tourists are heading to a more quiet holiday destination like Koh Samui, Krabi, Koh Lanta, etc …
Therefore most of the times Koh Phangan Island stays empty only filling up once a month during the Full Moon Party peak season. Most of the tourist money then just goes into the pockets of a few party organizers, while the rest of the people on the island offering restaurants, house rentals and any other touristic service have nothing else to show than empty pockets.
He further said that he personally is not against the parties in general but some change needs to be made to rebuild Koh Phangan's reputation as a holiday destination so more people could benefit from the tourists, not only all the party organizers.
Then we got another local Thai bloke simply saying enough is enough. Shut down all the parties on Koh Phangan. The all night long techno noise disturbance since many years is no longer bearable for anyone. Shut down the parties – case closed!
Next on stage a few more village chiefs (phu yais) from Baan Tai village Moo 2 & 3. All of them mostly said the same thing. The all night long techno party terror is no longer tolerable for the people living in the village. Village chief Miau from Moo 2 Baan Tai even told that the parties are a bad example for the school kids in Baan Tai village. First of all sleeping during the night is nearly impossible and the next day when the kids go to school they can listen to loud techno music and watching drunken and passed out party tourists while on their way to school.
Techno parties every second night like we had it during the past few months in January and February 2009 is no longer an option. The village chiefs mostly suggested allowing each party organizer only one party per month until 6 am and no more new parties in Baan Tai village.
Then came the evil Shiva Moon Party Family on stage and mostly complained about the different special treatments concerning the closing time of the parties. While the Shiva Moon Party is strictly closed at 6 am other party organizers like Half Moon and Jungle Experience are allowed to open until 8-9 am in the morning. If we have party rules on this island then all party organizers need to stick to those rules – not only the Shiva Moon Party.
Finally the chief of district came back on stage to make a final decision asking the local village people what they want. Do you want party every night? Do you want to shut down all the parties? Do you want twice a month or only once? You just need to tell me and then I will strictly enforce the new regulations.
Local village people then sort of agreed to one party each month for the 4 different party organizers, like Half Moon Festival, Black Moon Culture, Jungle Experience & evil Shiva Moon Party Family.
No more new parties will be allowed and closing hours is 6 am sharp!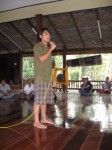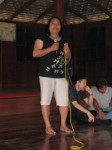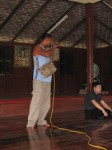 Then the Half Moon Festival Empire came back on stage begging the local village people to allow their party two times per month. This Half Moon Party petition was immediately denied by the local village people because if they allow the Half Moon Festival then they also have to allow all the other party organizers. The Half Moon Team kept begging and begging but the local village people said no. Even all the other party organizers insisted on a once per month only and if Half Moon receives special treatment … then so do we …
Finally the meeting was closed, new temporary party regulations were created and now local village people can only hope that the new regulations will be strictly enforced in the forthcoming future.
Worth mentioning is the fact that all the party organizers simply seem to hate each other! There was no feeling of a Party Family and the only thing someone was able to sense was money, power, greed and jealousy.
In my personal view the Party Meeting at Wat Pho temple was sort of a sudden and unexpected meeting as most people simply didn't know about and therefore were unable to attend and express their opinion. Most people were also simply afraid to speak up and tell what they really think. But this is another Thai Culture dilemma worth discussing at a later point.
So finally it remains to be seen that these new temporary party regulations will be strictly enforced by (corrupt?) local Koh Phangan authorities. Half Moon Festival was shut down at 2 am on 18th March 2009 as they already had done a party earlier this month on the 4th.
Black Moon Culture Party a few days ago, 25th March 2009, played music until 7 am so one can only figure that all these new & improved party regulations will be for nothing in a couple of weeks.
6 am sharp means 6 and not 7 am … but as long as people don't complain nothing is ever going to change. The power lies within the people … the people need to fight for their right otherwise the people will get the government they deserve … sadly ;-(
So … in my opinion no big improvements after all and in a few weeks from now all will be back to normal – business as usual 😉
Well … forgot to inform about the Shiva Moon Family Party improvement. The evil Shiva Moon Family created a new party place. Instead of partying on top of the hill they just moved their party place down in the valley by 100 meters and arranged the speakers so that they point into the opposite direction. All the techno party noise now goes towards Baan Tai village instead of Baan Nuea village and the noise level in our village has been finally reduced to a minimum. You can still hear this distinctive bum bum bum in the background but sleeping at home seems to be possible now. But once the wind blows from a different direction the noise level will be up to terrible again.
Sadly nobody in the meeting took the right approach to find a real solution about the techno party terror problem. What's that you might ask?
Simply move all the parties out of any residential area! Problem solved!
Please check out the picture gallery -> Techno Party Meeting Wat Pho Temple Baan Tai