MDMA Ecstasy causes death and overdose at Half Moon Party on Koh Phangan Island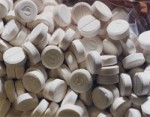 The Half Moon Party next to Baan Tai village has once again taken place here on Koh Phangan Island, and once again there has been a serious problem.
A young Canadian girl, here on Koh Phangan Island for a vacation, attended the Half Moon Party and took some MDMA Ecstasy. She subsequently had a very bad reaction and nearly died. She fell to the ground in convulsions, eyes rolling to the back of her head, urinating and soiling herself.
An ambulance was called which took her to an awaiting ambulance boat which whisked her away to the hospital in Koh Samui. There she needed to be restrained to the bed as doctors tried desperately to put an I.V in her arm to purge her body of the evil substance which caused her body to react like that. The whole ordeal cost 41 000 baht ($1139 CDN). Another causality was a local Thai man who was at the same Half Moon Party who later died!
A serious look needs to be taken before anyone comes to this island to ingest drugs. The island is world famous for drug parties and the police here are not the most reliable sources of protection since the drugs get to the parties all the time. It's a very profitable business and money speaks louder than the safety of people. Drug dealers have no compassion whatsoever for the safety of there clients.
You do not know where the drug comes from or what is in it. The chemical composition could be one which is poisonous to a lethal level. I am sure they are not educated chemist and do not know what they are doing or what exactly the chemical make up is. If you have the attitude of " it can't happen to me" be warned. Immediately once you ingest the drug there is no turning back and the last place you may be staying on your vacation is a hospital.