Lek's Thai Massage at Wat Pho Temple on Koh Phangan Island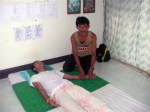 Come enjoy a relaxing herbal sauna at Wat Pho Buddhist Temple in Baan Tai village, just ten minutes from Tong Sala pier, on the South coast of Koh Phangan Island.
The herbal sauna is run on donations and is entirely up to the individual for the amount of donation but 50 B is a fair suggestion. After having a pleasant steam, Mr.Lek provides physiotherapy in the form of massages and oil massages. He is a learned masseur with a degree from a reputable medical school in Surrattani.
He can be reached at 07-8888-663. Booking is suggested. 1hr Thai massage is 200B, a oil massage is 300B. There are also masseuses working with Mr.Lek. The entire facility is part of the Buddhist temple. Mr.Lek was a Buddhist monk for 6 years before going to school to become a masseur.