Koh Phangan Investment – Interested in land or development opportunities?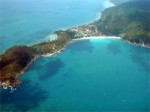 I don't need to tell everybody about how land prices are shooting up here on Koh Phangan Paradise Island. Already small plots are at premium rates!
If you are interested seriously in buying land, and either can't afford to do it alone, not enough to buy and develop, don't want to put all your eggs in one basket or just want to make sure you can the best possible deal going. Why not join a small consortium?
I am at present getting small numbers of people together to buy bigger plots of land. The benefit of this is that you will get better purchasing power and secure deals at perhaps ½ that of a small plot, if you went in on your own. It also gives you more control over what happens around your land. I.e. that nobody is going to build a sewage works or big hotel right in front of you.
If you are interested in finding out more then please send an email to Richard at barebater@hotmail.com – Thank You!