Thansadet Beach & Waterfall on the east coast of Koh Phangan Island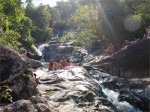 I opened my eyes to a golden realm of a red horizon against a deep blue sky.
The silhouette of the mountains arose with sharp incisions into the blue hue. The sight engulfed my field of vision as the shadows drifted like a fading dream into the dark reaches of time.
The world of colour explodes with a supreme accuracy into the heart of our eyes. Creation introduces itself with hands of beauty. It presents itself in the form of a water fall. Brilliant blue water falls endlessly over moss covered rocks into a majestic pool of immeasurable, profound beauty.
The pool at Than Sadet waterfalls invites us like a friendly smile. The sound of the water splashing down in accurate harmonics, beacons us to dive into the unknown and be absorbed by the oneness of being. To forever be at home.
Sunlight dances across the rippled water like a well preformed melody of a waltz. It dances in our eyes and soothes us with its addictive trance like movements. My eyelids become heavy as I drift into a dream.