Pyramid Yoga Center Haad Salad Koh Phangan Island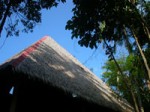 A couple of days ago it was the right time to have a look at this pyramid thing close to Haad Salad beach. Friends told me about this pyramid ages ago and as I'm always interested in mystic things I had to go and check this Pyramid Yoga Center thing out 🙂
The Pyramid Yoga Center is located up the mountain behind Haad Yao / Haad Salad beach on the west coast of Koh Phangan Island. The easiest and most comfortable way is to take the concrete road from Thongsala main town to the hospital and then further to Mae Haad beach. On that road you will see a sign 'Pyramid Yoga Center' telling you to turn left and then after a couple of hundred meters you probably might miss it. Well, this is what actually happened to me when I first tried to find this place 🙂
I think there's still another sign missing on that small road to let you know where to find the Pyramid Yoga Center otherwise people will just pass by without realizing that you already missed it. But as there's always a sort of secret about these spiritual teachings I suppose you have to 'find' that place by yourself. So watch out and be well prepared 😉
Then after a short walk up the mountain you will finally reach the Pyramid! The energy is fine there – smooth, calm with a light refreshing breeze coming up from the sea. Lots of quartz rocks are laying around in the area and that's always a good sign for positive energy. Though I have to say the mosquitoes love to suck your blood but that's the way it is up the mountain 😉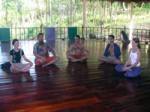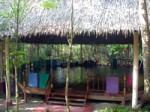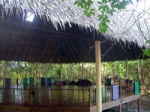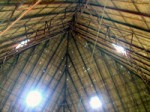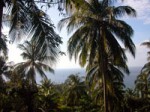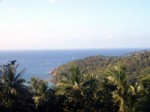 The Pyramid Yoga Center is quite huge and offers space for up to 40 yoga students I would guess. A place to awaken awareness to its eternal nature; A place to tune the mind into a refined instrument; A place for tuning the body into a vehicle of peak performance.
A bit down the mountain is the Tree Tops Restaurant. So why not stop by and have a refreshing coke and a cigarette after that walk up the mountain ?! Unfortunately there's no coke for sale and also smoking in the restaurant is not allowed ;-( However, you can get filtered water, green Chinese tea and lots of other healthy green looking stuff which I couldn't figure out what it was and was also not brave enough to ask ;-(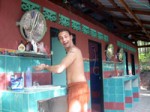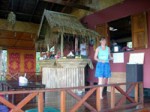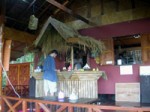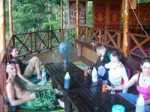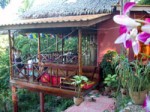 The Pyramid Yoga Center offers certified yoga teacher training, yoga retreats, all kind of yoga (Hatha, Pranayama, Mantra, Raga, Gnana, Yantra, Kundalini, Satsang, Chiquitsa) and Traditional Chinese Medicine, Cleansing and fasting programs, Diet and nutrition education, etc, etc. The only thing that seems to be missing is TANTRA YOGA – hehehe 😉
To find out more about the Pyramid Yoga Center just click on the following link => Pyramid Yoga Center Koh Phangan or phone +66-(0)77-374130 and ask for Marina or David!
wish you all a happy yoga-ing 🙂