Herbal Sauna & Thai Massage Wat Pho Temple Baan Tai Village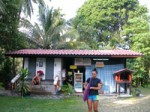 The herbal sauna and Thai massage at Wat Pho Temple in Baan Tai village Koh Phangan is open 7 days a week from 3 p.m. to 6 p.m.
Come and enjoy the many great benefits of a traditional herbal steam sauna where natural herbs like lemongrass are heated by a log wood fire to create the steam that is filtered into the sauna. The herbal steam has many health benefits for the body from helping to reduce high cholesterol levels to improving skin conditions such as dry skin and eczema to name just a few!
If you've been partying too hard or just feeling like doing something good for yourself then this is the place to go!
So, if you've just arrived on Koh Phangan, the party island in the South of Thailand, and have been traveling for days or you've been here for some months, then come and relax at the herbal sauna and cleanse you body from head to toe!
Traditional Thai Massage is 150 Baht per hour! A donation to help pay for the firewood and medicinal herbs would be more than appreciated!
The Buddhist temple Wat Pho is located in Baan Tai village, a 10 minutes drive from Thongsala towards world famous Full Moon Party beach Hadrin, at the south coast of Koh Phangan Island.