Dive Bulletin from a sedate Chaloklum village on Koh Phangan Island May 2003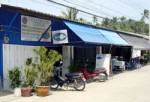 It's a very quiet time here in paradise. Time for dive school owners to relax & appreciate what made them stick here in the first place. (While there still is something left to appreciate, hopefully!)
Time also to do sensible jobs like writing a letter about the school to the mighty Beckmann's Koh Phangan News web site. We're still here in the middle of Chaloklum Village (up North) after 9+ years of the usual trials & tribulations usually encountered in a small & genuinely eccentric fishing community. Oh, the stories we can tell, if not restrained!
From the distant days of renting long-tail boats, to buying our present monster (22m long/5m wide) fully fitted dive (& live-aboard) boat, 'Chaloklum Tour' (yes, I know, we could have chosen a more glamorous name), we've kept to our simple policy of giving the best service we can, all the time. Word of mouth recommendations are worth more than anything else to our type of customer & we're useless at marketing anyway (incidentally if you know someone who might be interested in some diving managerial/marketing work, Phangan style, please get in contact with!).
Guaranteed small groups, genuinely personal teaching & diving trips. We like to do everything the way it's meant to be done, without time pressure. You know it's no fun if you rush it! All the details are on the website Chaloklum Diving Koh Phangan, plus a comprehensive guide to local marine life in our 600+ u/w photo directory.