Three Male Thais Killed – Gunfight at Full Moon Party Haad Rin Beach April 2004 Koh Phangan Island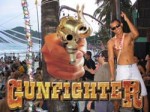 It is indeed true what the jungle drums were telling after the last Full Moon Party in April 2004 at Haad Rin beach on the south coast of Koh Phangan Island. The rumor on the street was that there was a gunfight early morning at Paradise Bungalows! And now it's official and there's no more doubt about it anymore!
Three young male Thais from Bangkok got shot in a gunfight early morning around 6 a.m. at Paradise Bungalows. Directly at the beach surrounded by thousands of tourist enjoying the world famous Full Moon Party on Koh Phangan Paradise Island.
Reliable sources are saying that a group of young Thai people came down from Bangkok to celebrate the Full Moon Party at Haadrin beach. Later that night one of the girls from Bangkok got bothered by a local Thai from Koh Samui. Her boyfriend from Bangkok went in between and he ended up having heavy arguments with the local Thai from Koh Samui. The guy from Bangkok must have called that other guys mum a slut because the local Thai from Koh Samui was so pissed, that he directly went back home and took the gun from his daddy. Came back to Paradise Bungalows and aimed his target – finally killing three young Thais from Bangkok who were unarmed!
Later on that morning around 7 a.m. the local Thai Police shut down the Full Moon Party and that happened so far as I can remember for the first time!