Koh Phangan Shiva Moon Party Family finally forced to leave Baan Tai Village
Welcome back to Techno Party Battlefield in Baan Tai village at the south coast on Koh Phangan Paradise Island.
Well … finally we got really good news but first of all Koh Phangan Island News headquarters would like to send a massive and big THANK YOU to the local Koh Phangan community for their fascinating support and marvelous comments posted to our last article finally banishing ALL techno parties in and around Baan Tai village.
The full article 'Techno Party Battlefield Baan Tai Village Koh Phangan Island' plus all the comments posted can be found here – enjoy 😉
Koh Phangan Island News headquarters was indeed very well aware that this article would create some form of response from the local Techno Party community. Comments like 'Beckman why you not go home to Germany? I think you are too long on the island!' or 'Who the hell is this negative guy writing this news thing? He seems to be really boring!'
Or even more astonishing remarks from our beloved Evil Shiva Moon Party Family douche bag Alex Satwah 'Shut the fuck up Becki and Islander. We want party and don't care a shit on people in Bantai and the other villages. This is our party island. Go somewhere else if you want to sleep. That's the way it goes. That's Thailand. Corruption is normal for Thai people. The Thai people get what they deserve!'
Well … what to say? Satwah deserves as Fatwa? Yep … fucking totally agree 😉
Also worth mentioning is an anonymous phone call from some Phangan Techno Party organizer we received a few days ago. Koh Phangan Island News Headquarters should better shut the fuck up! Be quiet and leave everything like it is otherwise something would happen! And someone would have to leave the island so you better watch your head!
Awesome!
So … what's the good news then?
Finally after 3 years the Evil Shiva Moon Party Family Empire is finally forced to pull out of Baan Tai village. Juuhee 😉
After continuous and constant massive complaints to the higher authorities in Suratthani and also capital city Bangkok the corrupt local Koh Phangan Island authorities, district office & chief of police, finally got their asses kicked and were finally forced to indeed do something real about the all night long techno party noise disturbance caused by the Evil Shiva Moon Party Family here in Baan Tai village on the Island Of Madness.
So … again … meetings were held with the local village chief (Phu Yai Baan) of Baan Nuea village, local village people and the Evil Shiva Moon Party Family. In a final manner agreements were set and the Evil Shiva Moon Party Family received a final ultimatum of 2 months to pull out of Baan Tai village and look for another party place far away from any residential area.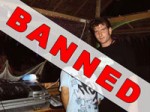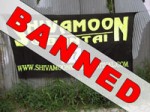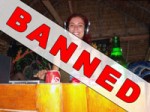 Word on the street is that the Evil Shiva Moon Party Empire is already in the process of finding a new party zone and soon they are forced to leave Baan Tai village.
The ultimatum ends beginning of April 2009 and if that isn't supposed to be really good news then we don't know what else to report 😉
Additional Phangan Island rumors further reconfirmed that also the Black Moon Culture at Mac Bay's Resort on Baan Tai beach is currently in the process of finding a new party zone up in the mountains; after massive complaints from the local village community and also neighboring Ban Tai beach resorts expressing displeasure about the loud all night long techno noise disturbance and the resulting leaving customers at the bungalow resorts on Baan Tai beach.
Koh Phangan Island New Headquarters will keep you updated and thanks again for the positive feedback from the Koh Phangan community!
Join us in becoming human again! Spread the word and help make Koh Phangan a better place!
Thanks …