Koh Phangan Island boosts ADSL Internet and Fixed Wireless Terminals upgrades!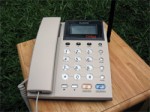 Hello and welcome back to the Island of Madness deeply hidden in the Gulf of Thailand, called Koh Pha-Ngan.
Finally … we all have been waiting for ages … Koh Phangan Paradise Island has received a massive upgrade in terms of internet technology. First we got that brand new and totally awesome ultra sophisticated technology, called Fixed Wireless Phone Terminals. These devices look like a pretty average telephone, you could purchase on the local Thai market, except it got a tiny antenna attached to it.
That tiny antenna is used to send and receive packages via the ether through that so called brand new CDMA technology. CDMA stands for Code Division Multiple Access which somehow is connected to that other UMTS standard – Universal Mobile Telecommunication System.
To skip all the technical details … this Fixed Wireless Phone Terminal surprisingly works 🙂 Becki just bought one device around 2 weeks ago for testing purposes as I got really sort of sick with my lovely 56K modem dial up connection. The average download speed with the Fixed Wireless Phone Terminal is around 15-20 Kbytes/sec and this makes it triple the speed of a 56K modem connection. It connects with 230 Kbit though the device specification tells something about 150 Kbit only!
Anyway … it works everywhere where you got a mobile phone reception and it is very useful for people without a telephone landline here on Koh Phangan. The device costs 6.000 – 7.000 Thai Baht here on the island and if you're interested in then just call Pee Whip from Island View Cabana at Mae Haad Beach 089-7249698. But you can even find it cheaper on the internet for about 4.000 Thai Baht, but then you would still need to buy a SIM card from the service provider CAT.
At the moment they even offer a hot promotion and the service is for free until April 2007. Yes you read right – it's FREE for a promotional period. After that you only pay 590 Thai Baht per month and you're connected 24 hours a day. Additionally you also receive a new mobile phone number and any domestic call within Thailand costs you only 1 Thai Baht per minute. You can also send unlimited SMS via the Fixed Wireless Phone Terminal.
Conclusion: Becki thinks it's worth the price if you're at a remote location or don't have a phone landline. Download speed is okay for browsing the internet and checking emails. Using it for Skype seems to be a bit too slow! P2P file sharing … well … it takes a while until the new Paris Hilton movie arrives on your desktop. Additionally there's no more 3 Thai Baht dial up connection, which save you some money on your phone bill. Instead you're connected to the internet 24/7. Another minus is that you can only use either the internet or the telephone. Using both systems at the same time unfortunately doesn't work. But as I said before … 590 Thai Baht / month … don't hesitate!
Then the other day, while my Fixed Wireless Phone Terminal was doing illegal downloads via the awful bit torrent P2P network, there was this car driving down Baan Tai village announcing that TOT is upgrading their ADSL service on some land line phone numbers starting with 377, 374 and 445!
Gratefully Becki started realizing that my phone number actually does begin with a 377 and within 24 hours the contract was signed and just 2 days later the technician from TOT came by at my place installing this awesome ADSL technology.
The TOT ADSL comes in different sizes and packages like Home Usage, Small Business Solutions and Fixed IP or DSL VPN … a so called virtual private network.
However … Becki is signed up for Home Use only with a 512 / 256 download / upload transfer rate. Additionally Becki needed to but an ADSL modem including router and wireless access point and so my place is now totally equipped with fast internet access 24/7 – that's awesome 🙂
For those of you trying to illegally use my wireless internet access … sorry … it's restricted to certain MAC addresses only!
The Home Use TOT ADSL package starts with 500 Thai Baht for a 256/128 connection. Then comes the 512/256 connection, which Becki actually enjoys at the moment, for 700 Thai Baht per month and finally a 1024/512 connection for another 1.000 Thai Baht per month.
The Business Solution and Fixed IP shit or VPN is pretty expensive and starts with 2.700 Thai Baht up to 7.800 or even 37.900 Thai Baht a month! For more details on the ADSL subject please call 081-7878569 and ask for a woman called A, the sales representative from TOT ADSL.
Finally the world is round again here at Becki's secret hidden island headquarters and the only problem I'm currently experiencing is to fill the queue row for my bit torrent client as I receive an average of 2-3 GB of data every single day.
Conclusion: Apply for ADSL today and enjoy the fascinating world of a fast internet, illegal file sharing, Skype phone calls, online radio listening, You Tube and that sort of stuff – it's awesome and you never will go back to a 56K modem dial up connection. I promise 😉
Enjoy & Love to you all!