Fugitive US citizen Kelly Lynn Miller secretly operated the Ibogaine drug treatment center on Koh Phangan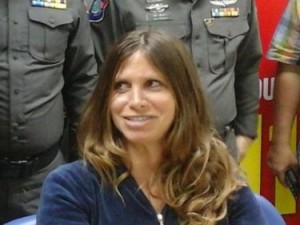 An American woman apprehended on a secluded Thai holiday island after six years on the run has been linked to an unregistered drug treatment program being operated on another Thai holiday island.
A police officer in the Thai province of Krabi told Phuketwan today that Alabama exotic dancer Kelly Lynn Miller, 36, had been working secretly under another name for a detox centre.
The link to Miller, 36, was made by British investigative journalist Andrew Drummond, who has been reporting on the use of the hallucinogenic drug Ibogaine on Koh Phangan, where an Australian man died in mysterious circumstances last year.
Phuketwan was told by police today that some equipment that appeared to be of the kind used in a detox program was found at the guesthouse where Miller was apprehended this week on another Thai island.
Police are checking whether she was performing detox procedures on that island.
Miller, who now has a young baby son just months old, threw away her passport on arriving in Thailand in 2009, intent on avoiding any contact that might draw her presence to the attention of US authorities.
She had been sentenced to jail for a DUI offence in which a man was killed but fled instead to Thailand while on a court bond.
According to Australian Diane Tucker, whose 33-year-old son Brodie Noel Smith died while on the Ibogaine program on Koh Phangan last year, Ms Miller was the third member of a team who "treated" her son on Koh Phangan.
Two Americans from Buffalo, New York, Mike Picone and Victor Cracknell, were the principal operators of the unregistered Ibogaine program, Drummond reports.
Kelly Miller was arrested earlier this week on the Andaman holiday coast island of Koh Lanta at the request of the US authorities.
She is believed to be a mysterious woman calling herself Bea, who assisted Cracknell and Picone.
Diane Tucker, with Kara Spark, who had also been receiving Ibogaine treatment, have been campaigning to have Australian authorities encourage the Thai Police to conduct a proper investigation into Brodie Smith's death.
Although the Ibogaine program was unregistered the Thai Ministry of Health has also taken no action in the case, Drummond reports.
Cracknell and Picone have claimed that Brodie had died because he took a drug overdose by himself.
After being arrested on Koh Lanta in Krabi this week, Miller was taken to Phuket where she acted with indifference at a media conference and applied lipstick as police described why she was arrested.
She is now in Immigration cells on Phuket and will probably be transferred to Bangkok before being deported to the US and jail.
Ibogaine is a hallucinogenic taken from the bark of the Iboga tree and used in tribal rituals in Gabon and neighboring states in West Africa. Many believe if can be successfully used to cure drug addiction.
Thank you to Phuketwan "Exotic US Dancer on the Run in Thailand Secretly Worked at Suspect Detox Centre" which was brought to us by Google Alerts.