In memory of our Hungarian friend Janosh from Koh Phangan Island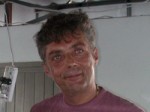 Well … Becki got it reconfirmed from many different reliable island sources the last couple of days. The sad news on Koh Phangan is that another good soul has left this dimension!
Janosh, our good Hungarian friend, who ran the 'Yuhey Restaurant' in Thongsala main village, has decided to take a break before moving into new adventures. He recently died of cancer in a hospital in Bangkok.
Becki still can remember the delicious taste of the Hungarian Goulash Janosh did. Also the Koh Phangan 'Special' Cake I once got there is truly something to remember. Well … we will miss you 😉 Hope you're having a good time and see you sooner or later again in this cosmic experience. God bless you 😉