Interview with the Police Chief of Koh Phangan Island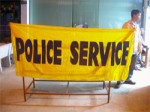 Finally … and available at Koh Phangan Island News! Directly from within the headquarters of the Royal Thai Police on Koh Phangan Paradise Island. A friendly chat between Police Colonel Pinyo Huankasin and our un-corrupted reporter from Koh Phangan Island News 🙂
Q: Your name is?
Pinyo Huankasin
Q: Your rank in the Royal Thai police?
Police colonel (Superintendent Chief of Koh Pha-ngan police station).
Q: Can you give me a brief history of your career in the police?
I trained at the police collage in Sampan Kolok, Nakornpathom province and then for the past 22 years I have worked in various places in Thailand before taking up this post in last June.
Q: Is this your first posting to Koh Phangan?
Yes, but it is not my first visiting here. I had been here for vacation, and I like the island very much with its beautiful natural environment, lovely coast line and mountains.
Q: How long do you plan to stay on the island?
Usually a tour is for 2 years but this can be extended and it is usual to move every 2 years to a new post somewhere else.
Q: How many officers do you have working for you and what area do you cover?
At present I have 62 officers working for me on this island and also on Koh Tao as well. With the increase in tourists more officers may be assigned to the island in the future. Unfortunately if crime also increases I will need more officers to police the islands efficiently.
Q: Do you have control over just the police we see going about or do you also have police from other agencies under your command on the island?
I only control the local police; however when tourist police come to the island for special events like the full moon party they then come under my overall control. If marine police are working around the island they do not come under my direct control but we work together through a control system run from Bangkok. There is also a liaison with other departments through offices on Koh Samui.
Q: Is there anything very different about policing this island from an area on the mainland and what extra factors have to be considered when policing here?
The duty and the job is the same wherever I am, however with the parties and tourists making this a very different place from many mainland police areas special consideration had to be made for the tourists and there welfare because Koh Phangan is one of the tourist destination. Tourism is growing and I am addressing the special factors related to that. We also have to consider the fact that there are many boats operating in and around the island whether they are just fishing or transporting people to various locations and the special needs of them have to be taken into consideration as well.
Q: With tourism now a major earner for the island how do you see the local police role changing from the past and what changes do you want made in the short term and the long term with regard to tourism and the governing of tourists?
There are changes coming in the future and these changes are as a direct result of the increase in tourism. At present these changes are still being debated in Bangkok and a policy will eventually emerge. The police are already responding to the increase in crime associated with more people coming here by targeting known individuals and there associates and dealing with them. With the growth of tourism on such a rapid scale it is very hard for the police to cope with the workloads imposed on us especially when you take into account the influx of 10,000 people every month for the full moon party.
Q: Do you think there is a need for better tourist Thai police relations and if so how do you think this can be achieved?
The biggest stumbling block here is the fact of language. This is a problem I am aware of and I am taking steps to remedy the situation by starting an English course for my officers along with computer training. It would also improve relations between the two communities if more tourists took the time to learn a little Thai. Interestingly more tourists are coming here that do not speak any English and this further compounds problems between the police and tourists when they need to communicate information.
Q: At present when a tourist has a problem that requires the help of the police it is extremely hard to find an office who speaks even a little English. Do you have any plans on changing that at all?
As I said I am starting training for my officers. The policy at present is to try and put officers who speak a little English in the tourist centers such as Haadrin, Aow Chaloklam or Thong Nai Pan along with trying to keep one English speaking officer at the police station.
Q: With more western family's coming to the island, many with young children do you see a need for women police on the island?
This also applies to single women who come here and find it hard sometimes to speak about certain subjects with male officers? Unfortunately most women police officers are office based at the present time and it would be extremely hard to get one assigned to the island. Also playing a part in this is the fact that not many women are in the police force in Thailand compared to men.
Q: There are more long stay tourists now living on the island than ever before, what if any changes are planned with regard to them?
The policy will remain the same as it is now with tourists having to report to the immigration services every ninety days.
Q: Do you think there is any type of role that the long stay people can play in working with the local police to improve relations and ties between the two communities?
Until the language barrier is breached the major role that can be played by foreigners living here and by this I mean people in business is to report any bad or troublesome individuals to the police so that action can be taken. This also applies to any tourist who feels that they have to report a problem to the police.
Q: What sort of arrest and conviction rate do the local police have with regards to crimes involving tourists?
The biggest problem we the police face is the fact that many tourists are here for only a very short time and then go home or on somewhere else. When we do catch a thief the policy of the police is to prosecute the individual when ever we can, however this can be difficult when the victim of the crime cannot be found to give evidence in court.
Q: When a tourist is arrested here, what is the most common reason for their arrest?
By far the main reason for detaining someone here is drugs. They are the main reason for having to arrest an individual on the island. The second most common reason for arresting a tourist is fighting with locals and others tourists when drunk.
Q: Are there any tourist police here on the island now and if so where are they based?
There are no tourist police on the island on a full time basis, there were some in the past but they were moved to Koh Samui and only come here for the full moon party or if there is some other reason for them to visit the island and when they come for the full moon party they report to me.
Q: At one time we had a few volunteer tourist police who were westerners on the island?
There are no volunteer tourist police on the island at this time and at the present time there are no plans to reintroduce them.
Q: Have you been to the full moon party and what's your opinion of it?
Yes I have been. In fact I have to go to every full moon party as I am in overall command of the situation in Haadrin with regard to safety and policing. I am sure you can understand that it is a very busy night for the all agencies involved. We deal with thefts, drugs, drunks, accidents in fact a list that goes on and on. I like the mixing and fusing of the many cultures that come together at the parties. I would like to think it helps promote a better understanding of people from other countries. One thing that I am not very happy with is the decline in public morality at the parties which is usually associated with alcohol or drugs. Thai people are by nature shy and to see tourists' conducting them selves in such a way embarrasses and angers them. As it is the biggest event on the island I feel it is very important not only for the police but also for the business community at large as well as party goers that everything runs smoothly and we are constantly trying to think up new ways of improving safety and enjoyment for all.
Q: Do you want to see any alterations to the way the full moon parties are run and administered?
It is very hard to change the way the party is run but, personally I would like to see people enjoy the beautiful moon and the sunrise, get rid of the thieves, the drug taking and have people only drink in moderation.
Q: It's well known some people come here for drug taking what is going to be your policy regarding drug taking on the island?
Drugs are here and that's a fact. The policy which is nationwide is that it is against the law and we will take action if we see individuals breaking the law. If a tourist is suspected of taking drugs we will test them and any further action taken as appropriate. The drugs trade here is driven by tourism, and by this I mean the majority of drugs sold on this island are for tourist consumption.
Q: Are there any special precautions taken on the island with regard to the unrest in the south of Thailand and the possibility of a terrorist attack at a full moon party?
The police do have special precautions that are implemented depending on the risk level at any individual party. This risk or threat level is determined by information gathered from several agencies in Thailand and appropriate security measures taken, should they be needed. One thing we are doing is not allowing boats to land on the sunrise side of the island on party nights at all. All boat landings must be on the Samui side of Haadrin and this is for security as well as safety purposes.
Q: How much of the policy carried out by the police here is set out in Bangkok and how much are you able to set out your self?
All police policy is determined centrally from Bangkok and it is our job to implement the policy as best we can with the men and equipment at our disposal. I am able to apply certain policy decisions of my own, but I have to first present these to the local community for approval.
Q: Do you have any special projects you want to personally want to implement here?
I do, I would very much like to install video cameras at the piers to see what's going on and who's coming and going. Also in the unfortunate event of a boat accident a true number of people on the boat concerned can be determined very quickly.
Q: Finally is there any advice that you would like to give to the tourists who are here already or thinking of coming to the island?
Yes, please come here and have fun and enjoy the island but, remember to not get complacent over security of your valuables, don't drink and drive and be sensible where drugs are concerned. Please, help us to protect the island environment and please do not damage everything that you come here for finding them fulfill your happiness. We want you to have a very enjoyable time here and go home with many happy memories of your time here on Koh Pha-ngan Island.