Koh Phangan Island – A story about ghosts, spirits, healers, serpents, black magic & white magic Part 1
Sawadee Khrap and a very rainy welcome to Koh Phangan Island News, the one and only online magazine offering fresh and up-to-date news from the island of madness in the Gulf of Thailand.
Well … it's raining a lot on Koh Phangan at the moment and therefore it's probably a good time to introduce you to some more wicked topics the island of madness has to offer.
The whole story started a few months back after finishing lunch at my most favorite Isaan restaurant close to Thongsala. Filled up with fresh Som Tum papaya salad, Nam Tok Muu & some saticky rice and ready to pay the bill, Pii Nui, the mother of Pii Don, asked me if I do believe in spirits, ghosts and that sort of stuff? Abso-fucking-lutely I replied …
Then Pii Nui showed me a few photographs which had been taken recently when her son Pii Don held a healing ceremony with one of his patients. And the photographs were indeed quiet bizarre with all those orange light strings and that green illuminating thingy behind Pii Don. Something accomplished with the new Adobe Photoshop CS4?
However … as Becki is always interested in that other wicked multi dimensional stuff I realized that I had to dig deeper to get to the core of the story. So I arranged a few meetings with my friend Pii Don to receive some more insights to find out the awful truth!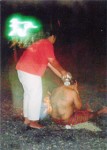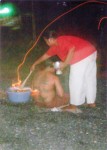 But first I have to mention that I know Pii Don since many years and actually never had the impression that there's something sort of special about him. Of course he always seemed like a nice guy, smiling and friendly and most of the time in a good mood, but seriously couldn't find anything special about him. He always helps his mom in the Isaan restaurant preparing food and washing the dishes and that sort of thingy. Nothing strange … nothing suspicious … just that normal average guy you would expect helping out his mom at the family restaurant.
But then since the last few months I noticed a serious change! First there was this 'new room' downstairs next to the restaurant filled up with all those images and statues of Buddha and other gods from Chinese and Hindu culture. Incense sticks, candles and all that sort of worship stuff you would expect in a shrine for the gods.
Then secondly there were all those people visiting Pii Don on a regular base. Pii Don was no longer helping out his mom in the kitchen, instead he was mostly occupied with that constant stream of people paying him a visit and doing whatever they were doing in that room dedicated to the gods.
So … now let's hear what Pii Don has to say and to make things a 100% sure I even went with a good Thai friend of mine to help me translate every single word so I won't publish any false information here.
To be continued …