Nearly catastrophic ferry journey from Koh Phangan to Koh Tao Island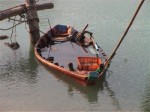 Koh Pha-Ngan December 18, 2005. The catamaran was replaced by the ferry due to bad weather out on the open sea.
An hour later, we woke up by some horrible noise (which someone said was due to the big waves hitting the ferry), and that the ferry was seriously tilting to the back board side. People begun to feel a bit uneasy and it didn't get better by the American arriving from the car deck saying: Relax people, its gonna be ok, its only water on the car deck causing the tilting!!
Suddenly, the Thai girls that minutes earlier were selling water and sandwiches in the cafe came running to the back starting to throw life west to everyone! There wasn' t any info on the loudspeaker, and some people nearly panicked. I went down to the car deck and saw that two of the staff was using litter cans to drain the boat of water.
Jesus, are there no water pumps on this ferries?
The situation eventually resolved and after 5 hours we finally reached what we thought was Koh Tao Island. It wasn't. The ferry was to big to enter the Koh Tao port so we had to be transferred to fishing boat!! Four Thais started throwing luggage and people over to the fishing boats, and at the end the fishing boat we were in contained 50 tourists, a lot of luggage, a captain who frenetically tried to balance the boat by moving people around the boat while he at the same time handed out commercial folders for ASIA DIVERS!
And how many life-jackets were on this boat? Maybe 2 or 3 … The waves were splashing all over the front deck, the boat going without lights, too many passengers without life jackets and a lot of ASIA DIVERS folders! Truly a night to remember.
Could we got our hands on the seatrans guy sending us off on this madness of a journey he wouldn't be working the next days or weeks!
God, we're glad to be alive, and will check the weather report twice before we ever enter a Thai Boat again.