Me'n'u has firmly established itself as Koh Phangan's premier restaurant certainly worthy of a detour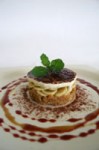 In late 2006 on a quiet stretch of the island known as Hin Kong on the road to Haad Yao, Me'n'u restaurant opened for business and since then Me'n'u has firmly established itself as Koh Phangan's premier restaurant certainly worthy of a detour.
Me'n'u is in a beautiful setting in a contemporary European designed building that is nestled in a coconut grove set away from the main road, and this has to be one Phangan islands most attractive locations for a restaurant.
The dining room itself has two predominant areas, the larger section inside with floor to ceiling sliding doors and tasteful oil paintings by noted local artists Nat & Suttee and the wooden terrace which holds the view over the amazing gardens. The tables themselves which were crafted from a 120 year old mango tree that originally stood on the land are simply laid using white linen napkins, Twin Fish cutlery and fresh flowers, while comfortable wooden chairs have cream upholstery.
Chef Nick Hall's A la carte menu is well planned with six dishes in each category and the style is Modern European, drawing on influences from all over Europe with a particular bias toward the UK (Nick's homeland) and France (his formative training). Each dish is immaculately presented and perfectly executed to a high standard.
First to arrive was the selection of freshly breads that included the classic French pain de mie rolls, rosemary and black pepper grissini and soft pitta batons all baked on the premises and all perfectly seasoned, to accompany the breads was an excellent black Kalamata olive tapenade and a hummous brimming with garlic and lemon that were served in a generous portion.
The menu began with an amuse Bouche of a chilled gazpacho and a breaded crab and potato croquette on a mini rocket salad. The gazpacho was served in a shot glass and was packed full of flavour and was simply divine. The crab's slightly sweet flavour coupled with coriander and chilli was balanced by the peppery rocket salad upon which it sat.
Next to arrive was the first course proper, for me the caramalised pork belly with crispy duck spring rolls accompanied by a spring onion, black sesame and soy dressing. The soft pork belly had just the right amount of fat beneath a glistening layer of crunchy skin and the duck which was confit leg meat, was presented in wafer thin Chinese style pancakes along with crisp shredded vegetables. My guest had a superbly paired pan fried sea bass fillet with basil mash and smoked pancetta. A perfectly cooked piece of fresh fish with a delicate orange finish sitting aloft a mound of creamy basil mash and shards of crisp bacon was the best he'd ever tasted.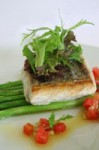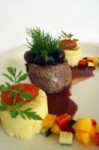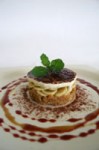 Our main course dishes included very good and ever so tender Australian sirloin, which turned out to be a 120 day aged Angus, served with roasted vegetables, a potato and thyme rosti and fricassee of wild mushrooms and an amazing red wine sauce. The local King fish fillet was very light and came with saffron potatoes, a puree of root vegetables and a lemon velouté, an extremely delicate dish that was well executed.
Desserts began with a power packing mango lassie a piece, and followed by the hot dark chocolate fondant with wild raspberry ice cream, a clear caramel sauce and tuille biscuits. The fondant itself had a rich liquid centre enveloped by a light cake; the homemade ice cream was again full of flavour and resonant of very fresh fruit. The lemongrass pannacotta with candied pineapple crisps and a toasted coconut parfait along side a kaffir lime syrup had all the hallmarks of a very tropical treat and was a very delicious ending to a fantastic meal.
The wine list is short and realistically priced with a decent wine selection by the glass. Service was extremely professional and friendly and the atmosphere was nice and relaxed.
Me'n'u is a restaurant clearly on top of its game, and every detail has been thought about carefully and it has been a great addition to the Gulf of Thailand dining scene.
Sarah McNabb