Swiss Bakery Jardin Secret Thongsala Koh Phangan Island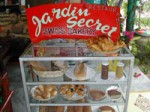 The Swiss Bakery 'Jardin Secret' is the place if you're looking for a quiet & relaxed atmosphere. Directly in Thongsala town, just behind the Phangan Hotel, you will find the Jardin Secret Bakery.
Fresh filter coffee & delicious croissants (my personal favorite!), baguettes, breads, cakes & pies are just a few examples off what the Swiss bakery has to offer. Filled with chocolate, vanilla cream or home made marmalade – there's something for every taste!
The Swiss Bakery is open from Monday to Saturday 7 a.m. to 6 p.m. – closed for a break on Sunday. And Natalie always welcomes you for a small chat about the newest stories and island gossip from Koh Phangan.
At the pictures below you can see Natalie at work preparing the daily fresh pastries! and of course a 'zoomed' version of what i like most … chocolate croissants 🙂
So whenever you feel like having a break please don't hesitate and just pop in – thank you!