MaiPenRai Bungalows Thansadet Beach Koh Phangan Island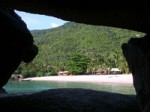 Teep's 'Mai Pen Rai Bungalows', the place of pleasure for nature lovers & artists and one of the oldest bungalow resorts in Koh Phangan, can be found at Than Sadet beach on the east coast of the island.
Here the famous Than Sadet river meanders down the mountainside through the dense jungle and exits into the sea beside Mai Pen Rai restaurant. The river and waterfalls once visited by their Majesties King V, VII and IX, who carved their initials on the huge granite rocks that grace this river, have now become one of the most tranquil places on the island to visit and relax. Parts of Than Sadet beach and Waterfall due to these royal connections are National Park land.
'Mai Pen Rai' which means 'no-problem' is as the name implies – the restaurant is easy-going with funky and artistic decoration, the ambiance is chilled out and unpretentious. 'The Reggae Bar' as some call it is a good meeting point for all the characters who visit Thansadet beach, and the perfect place to soak up the spirit and atmosphere of this beautiful beach. The restaurant serves delicious, traditional Thai and Western food, and here one can try the local catch of the day from the Than Sadet waters. At the back of the restaurant, perched above the river, one can watch Bharan (growing to huge sizes) feeding.
'Mai Pen Rai' offers a large variety of bungalows to travelers on different budgets. All the cabins are artistically and thoughtfully designed to harmoniously blend in with the beautiful surroundings. This is truly a paradise where nature lovers and artists from all walks of life can come together, and enjoy the peace and serenity of this unique corner of the world.
For more info, feel free to look at the website of Mai Pen Rai Bungalow Resort Koh Phangan – thank you!