Koh Phangan Island – A taxi driver, some drugs and the Royal Thai Police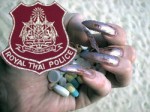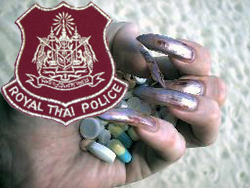 Hello there and welcome back to Koh Phangan Island News – the one and only independent newspaper reporting the awful truth about Koh Phangan Paradise Island.
Two weeks ago we celebrated another infamous Full Moon Party at world famous Hadrin beach and in the aftermath we had quite some amazing gossip about the DEA (Drug Enforcement Agency) showing up on Koh Phangan Island and furthermore non-confirmed rumors about some arrests of local police cops which were involved doing some nasty drug trade business on the Island of Madness, formerly also known as Koh Phangan Paradise Island.
So this article can be seen as pure, 100%, Koh Phangan Island gossip as you probably will never find any official documents in some police department. But this funny and hilarious story was brought to us by various reliable island sources and therefore deserves being posted and published on Koh Phangan Island News.
Apparently, during the last Full Moon Party period in February 2009, the local Royal Thai Police from Koh Phangan arrested a taxi car driver, who was in possession of a few YaBa Pills, locally known as 'crazy medicine' containing a mixture of methamphetamine and caffeine.
Once arrested the taxi driver was then brought to the local police station and there he was being questioned and interrogated by the local SWAT team to gain further information regarding the YaBa drugs and its source of origin.
The unidentified taxi driver then stared laughing and said, 'Hey guys, what are you doing? The drugs are yours! You provided me with those pills! So what the heck is all this about?'
Inspired by such an awful accusation the local Phangan SWAT team then sent of the taxi car driver with some numbered bills to purchase another pack of 'crazy medicine' from his local uniformed dealer and BINGO … Koh Phangan SWAT team was finally able to arrest one of their own brothers doing some nasty drug trading business on the Island Of Madness.
Once the local police cop from Koh Phangan, who lived just next to the Post Office in Thongsala and grows a small mustache, was arrested, he was then departed to the Royal Thai Police Headquarters in capital city Bangkok where he probably received a bit of spanking on his buttocks and some further lecturing to be a bit more careful in the future.
Finally he then was released and re-located, without any punishment nor prosecution nor any reports in any newspapers, to a more remote location. According to reliable island sources his new territory of protecting the law now seems to be neighboring Koh Tao Island.
Isn't that amazing news 😉
Again … this story should be only seen as hearsay though reconfirmations from various reliable island sources actually proof it to be of high probability. If you can provide any more information regarding this case you are more than welcome to leave a comment – thank you!
This indeed shows you one more time that the Royal Thai Law is an extremely flexible and dynamic system which will punish the poor dreadlock weed smoking rastafari tourist with sudden death or massive payments while the guardians of the law who do the real drug trading will receive some minor buttock spanking plus a nice relocation to a new territory until some weed has been grown over the whole story – without any prosecution or whatsoever!
Welcome to the land of the smile … welcome to the Island Of Madness!