Koh Phangan Island officials launch taxi fare complaints help desk in Thongsala village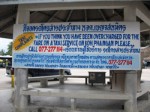 Koh Phangan island officials recently proudly announced the fresh launch of the newly installed taxi fare complaints help desk.
Due to the recent massive price increase for taxi fares on Koh Phangan Island and the general rip off behavior of the Ministry of Transportation, also locally known as the taxi mafia, more and more complaints were reported by upset and more than dissatisfied foreign tourists traveling on this beautiful island.
"This is really outrageous! I have been recently charged 100 Baht from Thongsala to Had Rin beach during day time. Last year it still was an average of 50 Baht and now this. This is a total rip off!", an unnamed Australian tourist said.
"During night time on Koh Phangan Island nearly everything is possible when it comes to taxi prices. Expect to be charged 5-10 times the normal fare during the night. These bloody taxi bastards just try to rip you off wherever and whenever they can!", a British tourist added.
The Ministry of Transportation still tries to justify the heavy price increase for taxi fares with the higher oil and petrol prices. Petrol prices have increased during the last couple of months from an average of 30 Baht to up to 34 Baht per liter. That's an increase of approximately 15% compared with the 100% price increase for the taxi fares.
"Well … go and have a look about the taxi prices in Switzerland or elsewhere in Europe. I think taxi prices here on Koh Phangan are still very reasonable compared to other countries.", a member of the Ministry of Transportation replied when being asked about the recent massive price increase on taxi fees.
Finally Koh Phangan Island Officials have published a sign next to the main pier in Thongsala:
"If you think you have been overcharged for the fare on a taxi service on Koh Pha-Ngan please call 077-377114"
Further investigations by Island News Headquarters revealed that the taxi fare complaints help desk hot line number connects you directly to the local police station on Koh Phangan Island.
During the past, local police officers have been proven not to be very helpful when it comes to arguments between local business owners and foreign tourists. Many incidents have been reported by foreign tourists stating that local police officers were not helpful at all and mostly based their decisions in favor of local Thai business owners.
"Asking for help from the local police station seems sort of ridiculous! During the last couple of years with the increasing number of foreign tourists traveling to Koh Phangan Island they haven't even managed to get some proper English speaking police officers. I wouldn't even bothering getting the police involved.", a reliable source added.