Koh Phangan Police Check Point – Hey You … Where is your helmet?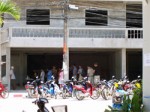 Well … Becki is currently on holiday in Germany observing general alien behaviour. Becki also recently received some sensitive Koh Phangan Island data through our global information network.
The fact on the island is that highly trained government agents built up check points in several high traffic areas of Koh Phangan Paradise Island to inform YOU about YOUR duty to wear a helmet while driving a motorbike. And as you can see at the picture to the left the government information system seems to work out pretty well 🙂
Local Thais, Tourists and anyone else without a helmet is more than welcome to participate. But, of course, the government reminder service is not for free and they will ask you for your financial support, like usual 🙂
So … be prepared … friendly and smiling government agents could be waiting for you around the next corner. HAPPY MOTORBIKING!