Koh Phangan Island – A story about ghosts, spirits, healers, serpents, black magic & white magic Part 3
This is the third part of our series, the first part can be found here -> Koh Phangan Island – A story about ghosts, spirits, healers, serpents, black magic & white magic Part 1 and the second part can be found here -> Koh Phangan Island – A story about ghosts, spirits, healers, serpents, black magic & white magic Part 2 – thanks!
So now let's have a closer look at the photographs from the healing ceremony and let Pii Don explain in his own words.
First thing you need to know it that the healing ceremony was about removing a black magic spell from the patient's body which was injected by a Cambodian black magic magician / sorcerer, a person who casts spells on other people. Yep … that sort of stuff actually does exit – believe it or not!
How does Pii Don know about all that? Well … the helping spirits simply tell him and the patient.
So … when I first looked at the pictures and saw those orange light strings I thought that's easy to explain because Pii Don is holding some incense sticks in his hands and therefore it's just a reflection of the incense stick glow 😉 Got ya'
But actually these are not incense sticks just some plain and simple bamboo sticks used to sprinkle 'holy water' (naam mon) onto the patient.
Pii Don explains the orange / red light strings and orangey glow around his body simply as the illumination of the helping spirit which possesses his body during the healing ceremony.
The green something thingies behind Pii Don's back are other entities called by the helping spirit to perform specific tasks on the patient. There are many different kinds of helpers, each with a specific skill, and the once you can clearly see in the pictures are the snake and the elephant.
And then on this photograph you can see those orange lines at the back of the patient while Pii Don is pouring 'holy water' on the head and back of the patient. According to Pii Don those orange lines are spells cast by the spiritual entity to counteract the black magic spell and help protect the patient. Pii Don even showed me a book with hundreds of those spells in it.
Once the treatment is finished the patient feels a sudden relief and the symptoms totally disappear over the next couple of days and normally never come back again. So far Pii Don's success rate is at 100% and patients, once treated and healed, normally stay healthy and never complain again.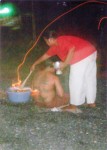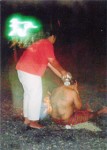 According to Pii Don the majority of treatments he performs are about 'black magic spells' from this life or even past lives which patients have been carrying around with them for sometimes a very long time!
Next on his treatment list are body disorders caused by parasites which can be easily removed via various herbal mixtures. Then recently Pii Don cured a woman who lost the ability to speak clearly and mostly sounded like a deaf woman speaking. After a few weeks of treatment her voice came back and she spoke totally normal again.
Pii Don also does astrology readings on your horoscope and recently he was also introduced by his spiritual helper 'Pho Phu Dam' to the art of body massage, pressure points and energetic meridians of the human body.
And Becki indeed got first hand experience as I was having a sort of stiff neck and shoulder pain for about 10 days a couple of weeks ago. I went for treatment at another massage guy on the island for about 10 days and it always felt quite nice immediately after the massage but the next day in the morning the pain was even stronger.
So the other day enjoying my usual lunch at Pii Don's mom Isaan restaurant Pii Don looked at me and asked 'What's wrong with you? You look a bit stiff today!'
So I told Pii Don about my stiff neck and shoulder problem for the last few days and he replied 'Have lunch first I will have a look afterwards!'
After delicious lunch Becki went in the shrine of the gods, took my shirt off and Pii Don had a look. He asked if the other massage guy had opened my 'patoo lom' the 'door of the wind'? Explaining that you need to open the energetic meridians of the body so the trapped energy in my neck and shoulder has a way to get out of my system.
Then a few pushes here and a few stretches there and in about 10-15 minutes Becki felt fresh as a daisy again and was stunned by the effects of that short treatment which actually didn't feel like a 'normal' Thai massage at all! Just a few pushes with the thumb … a bit rubbing with the fingers … and a bit patting on my back and Becki was as good as new! Awesome! Looks like this guy knows what he is doing!
So I asked Pii Don where he learned all that stuff. He replied he never went to a proper Thai massage school and instead introduced me to his spiritual helpers and the voice in his head telling him where to push, what to stretch and how to do it!
And as an effect this article was born 😉
Hope you enjoyed it and please post comments and share your experience, opinions or whatsoever. But please in a nice manner – thanks!
Seeing is believing? Believing is seeing? You better decide!
Please check out the Picture Gallery => Koh Phangan Spiritual Healer Pii Don