Koh Phangan Illusion – The Techno Party Gladiator Arena?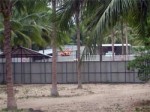 Welcome back to Koh Phangan Island News – the one and only online news magazine reporting the awful truth about the hidden paradise island of madness and daily increasing insanity in the Gulf of Thailand!
Recently Becki went on a secret undercover mission together with our computer scientist Patrik from the Baancom.com headquarters, who, by the way offers simply the best computer consulting, repair and sales service on Koh Phangan Paradise Island. Notebook problems? Windows XP just isn't doing the stuff it's supposed to do? Or experiencing a hardware failure? Well … just phone 077-238 124 and ask for Patrik! If a friendly and charming female Thai voice is answering the call … CAUTION – BE ALERTED!
Anyway, enough subliminal advertisement for today 😉 So … recently on our secret undercover Sunday afternoon mission we probably found the perfect solution to most of the party zone problems here on beloved Koh Pha-Ngan Island!
What's the Party Zone Problem you might ask? Well … nearly everyone is now desperately organizing so called 'Satisfy Your Soul' techno party events all around the island to simply just get that easy money and maximize their profits! Resulting in terrible noise all night long sometimes every single night!
Well … Becki has really nothing against any techno trance 'Satisfy Your Soul' party event all around beloved Koh Pha-Ngan Island. If people think that's what their soul wants … then great! Participate … dance … and have fun all night long!
But … on the other side … while a few hundred techno alien life forms desperately need to 'Satisfy their Souls' by listening to loud and generally not very pleasant techno vibes throughout the night … a few hundred other ancient life forms hardly can enter the dream world for a few minutes as their traditional wooden Thai houses won't stop swinging to those bizarre techno base rhythms all night long!
That's in my opinion the major issue with all these 'Come and satisfy your soul' party events spread all around the island and can be very easily confirmed by most locals and tourists living next to those party zones here on Koh Pha-Ngan island.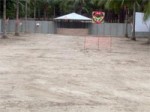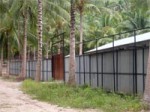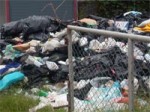 Yes … Becki has complained many, many times about this situation and so it's probably a good time to show some solutions or point in the right directions. Just keep all party activity down at world famous party beach Had Rin – it's really as simple as that – trust me!
Another example is the Half Moon Party Festival! Those organizers chose a 'Party Zone' just outside of Baan Tai village on the way to Thong Nai Pan. Though the Half Moon Party zone is located far out of Baan Tai village and additionally in sort of a small valley, most of the locals living in that area also won't close an eye during this Half Moon Party Event – resulting in NO SLEEP OR WHATSOEVER for at least 2 nights per month! So finally we also have to give a Two thumbs DOWN for the Half Moon Party Festival Organizers ;-( ! Please – all you party organizers – start thinking about the neighbours living next to your party zones – PLEASE! Start showing some respect to each other and let also your neighbours satisfy their souls throughout the entire night. Please let your neighbours sleep and move your party zones to Hadrin beach or another total remote location with no neighbours around – thank you! (this bit was updated aug 2007!)
UPDATE AUGUST 2007
Becki totally agrees with the posted comments! Half Moon Party also SUCKS! It's a very loud and noisy nightly disturbance for the neighbours living in that area and they surely won't close an eye during the Half Moon Party Festival! Just keep all party activity down at Had Rin beach and give us back our sleep – thank you!
The Black Moon Culture! Well … this 'Come and Satisfy your Soul' event first took place at Mac's Bay Resort on Baan Tai beach just behind the Ban Tai school. Then after a while first complains were made by Baan Tai school teachers, who had to listen to massive progressive trance and house beats while trying to teach simple mathematics to their students. So … complains were done and the Black Moon culture was finally relocated to Baan Khai next to some Sanorah 'River on stone' waterfalls!
Unfortunately the new party zone wasn't as attractive as the original one just behind the Baan Tai School at Mac's Bay Resort, resulting in a massive decrease of party hungry life forms actually participating in the Black Moon Culture Party event. However … some more intensive negotiations were done and finally the Black Moon Culture was allowed to come back to its original location in the middle of Baan Tai village just behind Baan Tai School!
The teachers … the students … simple mathematics … education level below zero … disturbance … annoyance … loud terrible noises … base vibes … lack of concentration … techno party?
Well … time for some useful thoughts and possible solutions instead of some general Becki complaints 😉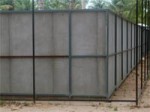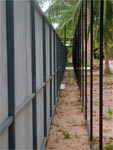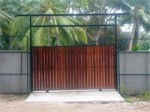 How's about a general party zone for all party events on the island? How's about a very remote location somewhere on the island where you don't disturb or annoy any neighbors living around, as there are no neighbors at all living in that area? How's about a general party zone infrastructure with a stunning DJ stage, a miraculous PA system, some tons of massive speakers, a couple of dance floors, some counters where you can purchase your drinks, some toilets and some chilling chill out areas?
How's about the idea that any party organizer can then simply rent the entire party zone infrastructure for a general fee per night? The whole party zone infrastructure could then be more and more improved over time out of the profits made by renting out the infrastructure to the party organizers.
This remote party zone infrastructure would then solve a couple of problems!
As of its remote location everyone could then enjoy whatever they like. Techno party human life forms could then enjoy their 'Satisfy the Soul' trip without annoying any neighbors around! All other more traditional oriented locals and tourists living on Koh Phangan Paradise Island could then again enjoy their smooth dreams without the annoyance of any swinging wooden houses!
Wouldn't that be a step towards a possible direction?
Or … how about a general noise regulation? That the party zone should at least be located at a remote location and not directly within or next to a village?
In general we should always try to think about how our actions will eventually influence others! I think we should always respect other interests and look for a solution which helps both sites!
Becki thinks this can be easily achieved by listening to the different pros and contras and then use our god given brains to find a solution which mostly satisfies all sites! Yes … it might be sometimes a really difficult task … compromises need to be made … but in my personal opinion it can be done if we are only willing to find a solution and use our brains in a respectful and human minded way!
That's what I call respect and family like attitude! That's what I call 'taking care of each other' and live together in peace, love and unity! That's what I call a real human!
There's always a better solution available, probably we haven't invested the time yet to discover it!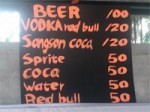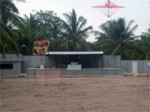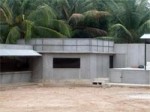 Please check out the Picture Gallery by clicking on this link => Koh Phangan Techno Gladiator Arena
So … while recently discovering this brand new party zone, called Phangan Illusion, somewhere between Baan Tai and Baan Khai village all these thoughts suddenly popped up in my mind!
Well … personally I think that this new Phangan Illusion Party Zone, which was accidentally (on purpose?) placed just next to some rubbish disposal sites, looks a bit like a techno gladiator arena instead of that charming 'come and satisfy your soul' thing. The only thing missing is some barbed wire on top of that construction steel frame and Becki would have gotten the impression to discover a new secret, undercover military base on Koh Phangan Island.
What makes me still a bit curious and wondering is that concrete bunker in the right corner of the Phangan Illusion military camp! Who is sitting behind that black window observing general techno trance alien life form behaviors?
Indeed the military? Some smart and wicked scientists? Local police agents? The drug mafia? The New World Order?
Any ideas?