Koh Phangan Party Island – The Shiva Moon Party Empire Strikes Back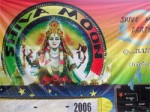 Welcome back to the second part of our Koh Phangan Shiva Moon series. The first part of this series, Koh Phangan Shiva Moon Experience, can be found here. Enjoy!
Well … I think you've also watched these movies like Return of the Yeti Knights, The Empire Strikes Back or Rocky I,II,III,IV and V or The Evil Never Ends Part XXIII?
Anyway … since this years high season in 2006 again on the island menu The Shiva Moon Empire Strikes Back!
Well … so what's that Shiva Moon Empire actually? Originally it's a butcher family specialized in killing pigs and then offering those nice pieces of fresh meet on the local Baan Tai market. Their Shiva Moon Headquarters are located next to the local Baan Tai fresh market just after that tiny bridge on the left hand side.
A funny thing probably also worth mentioning is that some family members of the Shiva Moon Empire are natural born Gatheus, better known as lady boys in the western world. This could perhaps reveal some genetic malfunctions if we would dig deeper into that genetic code from that butcher family. Unfortunately Island News Headquarters doesn't have sufficient funds at the moment to experiment a bit with the world of genetic wonders & miracles but we have already received a few hair samples of some family members by an anonymous supporter 😉
However … how is it actually possible that the Shiva Moon Empire is allowed to strike back?
Well … first we should probably concentrate a bit on the messenger of our beloved lord Buddha, who actually was responsible for the first shut down of the Shiva Moon Party!
So … what happened to our Buddhist messenger? According to the island network of mouth propaganda and word of gossip the awful truth is always shocking and breath taking. The main nun from the temple Wat Khao Tham actually decided that having a nice Shiva Moon Party from time to time, just next to her temple, isn't such a bad thing at all! As long as some form of compensation is given to her that would definitely guide her back into the inner bliss of enlightenment and Vipassana meditation 😉
What form of compensation is our beloved messenger of Buddha talking about? Well … the locals here call it Tam Boon – doing a good deed! The good deed mostly comes again in form of tiny printed sheets of paper which actually and indeed will guide you into some form of altered mind experience but I'm not sure what state of blissful mind the Buddhist female messenger is actually referring to?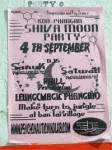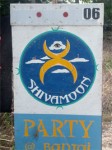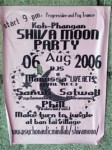 To gain personal experience on that blissful state of mind I want to encourage you to take some super glue and a 100 US$ dollar note 100 Thai Baht should also do the trick and just stick that printed paper directly on your 3rd eye chakra, sit up straight and inhale and exhale deeply for about 15-20 minutes! After a while you will start seeing pink elephants flying by and other tropic freaking shit DON'T PANIC and start diving deeper into that blissful state of mind! Have fun!
Another thing worth concentrating on is the patronage system of our local island officials! Years ago this was easily done by lets say a fixed pricing system! Meaning one night of party activity costs you around … well … I really don't know … let's say 20.000 Thai Baht. But as things got more and more improved and the local party organizers finally figured out that they can easily charge a fixed entrance fee of 200 Baht, the local island officials figured out that they got screwed over! The party organizers made a profit of around 300.000 Thai Baht and even more only based on that entrance fee. Probably a total profit of around 500.000 Thai Baht per night if you calculate the massive amounts of Chang Beer, Saeng Som Buckets, blowjobs, ganja, xxxxxxx, xxx xxx and other xxxx xxxxxxxx xxxxxxxxxx.
Well … understandable that the local patronage system of police agents and district officers were not at all satisfied with the current pricing solution and therefore introduced a new, more advanced system resulting in no more fixed prices! Instead they asked for a percentage on the entrance fee … a so called dynamic pricing system!
So … I don't have any idea what the exact percentage is at the moment but at least I've seen a couple of police agents at the black moon and half moon party gates, standing next to those bamboo huts where they collect the holy entrance fee! Probably monitoring their nightly income?
Anyway … back to our lovely Shiva Moon Party experience. As you can easily figure out it is not physical power that lets spin the earth around the sun … it's simply just the flow of money which keeps a Buddhist nun in her blissful state of mind and island officials bending the laws forward and backward!
Then … what do the locals living in Baan Tai and Baan Nuea village think about this amazing Shiva Moon Party experience, which is just celebrated at the end of their village offering excellent sound quality and massive base vibes throughout the night every 2 weeks?
To be honest … most of the locals are just simply pissed off! A couple of months ago at their monthly meeting with the village chief … this so called Phu Yai Baan guy … they complained about the terrible noise and the lack of sleep. So another village messenger was sent to the Shiva Moon Headquarters promises were made and nothing has actually ever changed since then.
Again … where the heck is this so called Thai Culture? That family style tradition with respect for each other and the elders, and this so called Mai Pen Rai attitude? Where is it? I'm having problems seeing it or is it just that stupid 100 Thai Baht note that is stuck to my forehead disturbing my clear view and blissful state of mind?
Ha Ha Ha … It's so funny 😉 Probably the right time to introduce you to another well known local attitude which you will not find advertised in any of these lovely Go Explore the Island magazines!
There is something the local Thais on the island call Hen Khae Tua!
To be continued … Koh Phangan Party Island – The Return of the Shiva Moon Knights!