Koh Phangan Island News – What's the future going to be?
Yep … Koh Phangan Island News, the one and only website reporting the real news about the Island of Madness, has finally come to a very end!
But … is it really true? Will there really be no more un-censored & non-corrupted news about one of the last lost paradises on our planet earth called Koh Phangan – The Island of Madness?
Well … this actually just depends on your very participation! On your willingness to share some of your precious time and inform others about the real news & facts from the lost paradise called Koh Phangan Island.
As mentioned earlier douche bag dickhead pussy Becki has decided to leave the Island Of Madness and therefore I'm no longer in the position to provide you with the latest island gossip … the latest Full Moon Party reviews … the latest reports about the Techno Party Battlefield in Ban Tai village … the latest motorbike accidents … the latest police road blocks along the quiet coast roads … the latest murders … dead tourists … shootings … killings …or even stabbings of some unsuspecting tourist during the infamous Full Moon Party night down at world famous Hadrin beach.
But there is indeed no reason to always publish so called 'negative' news about Koh Phangan Island! You could indeed, as suggested by one of our lovely comment poster, transform your negative island perception and find back to your beautiful heart and publish a few extraordinary notes about that awesome deep throat blowjob experience little miss Gung selflessly serviced you at the 'Give me all your money or I will stab you in the back' girly bar down the horny mile between Thongsala and Ban Tai village.
Or … instead of posting comments how badly this website sucks and calling Becki a pussy … you could also easily get your shit together, realize that you actually indeed do suffer from a major inferiority complex, and start doing something positive and finally contribute to the 'original' Koh Phangan community instead of complaining and moaning about nearly everything Koh Phangan Island News has to offer.
So … my dear & pure hearted friends from the Koh Phangan community … get your shit together 🙂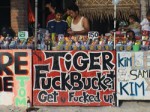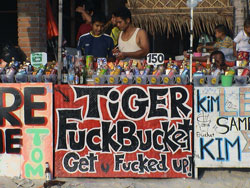 Equip yourselves with some digital cameras and explore the last secret & hidden spots the Island Of Madness still has to offer. Tell us about your weird 'experience' on the party island of Koh Phangan. Tell us about your personal 'magic trip' or the real & pure ecstasy you recently came in contact with at one of the thousands 'Respect the Nature but give us all your money' music dance festivals on the party island Koh Phangan.
Tell us where we can find the good pills … the bad pills … some real brainy acid and some good nice smelly weed to smoke! Tell us about the good guys … warn us about the bad guys who lurk behind the next coconut tree looking to gain personal financial profit just because you're an un-informed tourist visiting Koh Phangan for the very first time!
Did you ever buy a small bag of Phangan Ganja to only be visited by local & friendly smiling police cops a few minutes later at your bungalow? And out of a sudden another friendly smiling so called lawyer showed up to guide you into the deep realms of the legal system in Thailand! Only to realize a few minutes later that you're standing in front of the ATM machine typing in your secret pin code.
Did something like this ever happen to you? Tell us where you bought that stinky bag of 'original' Phangan Ganja. Tell us what happened … notify us about places to avoid …inform us what NOT to do!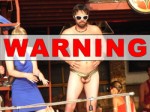 Tells us where we can find the best steak on the island … the best freaking air conditioned Korean barbeque restaurant … as we already got a few hundred such places. Did we really need another one? Are we finally running out of ideas on this majestic little paradise?
Also please tell us about restaurants where the food really sucks and is so disgusting that you don't want any other human being to taste it! Please inform us about the good & best bungalow places to stay during the Full Moon Party peak season and please also leave a note where the bungalow owners are greedy and only after your money so others can be warned and don't have to make the same stupid experience you did.
Tell us about the good things Koh Phangan Island has to offer! But also warn the un-informed Koh Phangan tourist about the snaky traps waiting to be stepped in behind nearly every coconut tree!
If you prefer then please focus on the positive things Koh Phangan Island has to offer – you're more than welcome to do so!
But please keep in mind that the awful truth doesn't have to be awful! Shit happens everywhere on this planet but we do have the possibility to inform others about it so they don't have to make the same stupid mistake you did.
It probably won't change a thing as the 'bad' guys are here for a reason and probably will never change their attitude but it's not necessary to be at the wrong place the wrong time! Instead it could be the perfect time at the perfect place … let the information flow!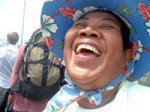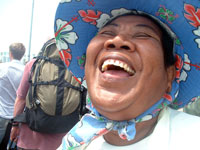 So … at the very end it actually starts again with the beginning … the circle closes! Here's a quote from the early beginning of Koh Phangan Island News website:
"Anyway … this website was originally sent into this universe to act as an open portal, a meeting point, a source of exchange, an area to share information, knowledge, fun, happiness and whatever else pops up in your mind about Koh Phangan Paradise Island. The ongoing and never ending process highly depends up on your cooperation and support! You and any extraterrestrial being in this galaxy are more than welcome to join Koh Pha-ngan Island News now!"
So … don't hesitate a single second and start participating now in this global cosmic experiment. Please sign up and register for free of course and then you're able to:
* submit news, articles, reviews
* share knowledge, fun & happiness
* or anything else you want other people let to know about Ko Pangan Paradise Island
So … what's it going to be? Moaning? Complaining? Calling everyone a douche and just shut the fuck up?
Or will you take part … will you participate … will you contribute to the community? Will you share some of your precious times and finally let others know how you experienced your stay on Koh Phangan Paradise – The Island Of Madness?
Who knows? I've been told that my thoughts actually do have impact on the reality so I better wisely use my wicked mental power … but the recent years … while having the purest thoughts and hope into human mankind, especially on Koh Phangan … just revealed to me that my wicked mental powers were simply not enough … access denied 😉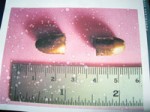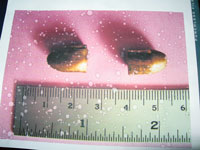 Anyway … do I have any expectations? Of course not 😉
Even my good friend Glyn from Canada promised years and years ago that he would publish some more positive articles about Koh Phangan. But so far Glyn has always been far too busy showing off his newest high tech IPod Touch device to impress the chicks while hanging out at Mike's during the high season. Look how I can zoom in while I move my fingers! Isn't that impressive? Yes, Glyn … that's really some fucking pretty impressive device you got there … awesome 😉 Please say hello to Karen 🙂
However … my job here is mostly done and I will promise to keep the website of Koh Phangan Island News online as long as I have access to some servers on the internet. There won't be any more 'negative' news published by dickhead Becki but at least you can browse the archive here from time to time and refresh your memories of good, old Koh Phangan.
I will of course monitor and moderate this little website and login from time to time to see if some new articles finally made it through space & time ready to be published. Ready to spread the word … let it be good or 'bad'!
That's it for the moment! Be good, nice & Take care of each other!